We Went Vegetarian for a Week, Here's What We Learned
Numerous studies have shown the value of eating a more plant-based diet. Your body truly thanks you for eating more fruits, vegetables, and legumes.
With kids and a meat-centric husband, I wondered if we could add more plant-based dishes to our dinner repertoire, so I (secretly) decided we were going to be vegetarians for a week.
I did some research, found a handful of recipes that sounded good, and got to work. The recipes ranged from pasta to seared tofu to a lentil taco. I also purchased tofu hot dogs to see if they might be a winner with the kids (note: they definitely were not.).
What We Learned
Tofu is not something that we find delicious. I know many, many people out there who enjoy tofu. Unfortunately, we are not among them. I tried it two different times during the week and it just wasn't a winner. Try it for yourselves though, you might end up loving it!
The lentil tacos were almost meaty tasting, in my opinion. I topped them with a yummy carrot-cilantro slaw and thought the dish was fantastic. My kids took a few bites, but did not necessarily agree with me. My son said the tacos tasted good, but he also noticeably left 98% of his taco on the plate.
Pasta was a winner, but I kind of figured it would be since it is something the kids are used to eating! I did slip some spinach in the sauce and my daughter said she liked it, except for the green bits. (Sigh.)
Overall, I enjoyed the experiment, although my kids might not agree. I think trying out vegetarian recipes allowed me to try new recipes and come up with ways to add more vegetables into our meals.
While I do not think we will convert to being vegetarians, I plan to try to have more plant-based meals throughout the week. It's good for us and good for the environment, so why not give it a try?!
Homemade Bean Nutella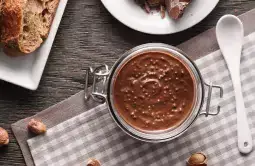 My kids enjoy chocolate. I am not sure there is a kid out there who doesn't like a little chocolate now and then. One thing that we like but that I try not to buy often is Nutella – the chocolate hazelnut spread. We like it on waffles and toast.
I created my own homemade Nutella which includes beans for an added health benefit. Here's how I made it: (note: I did not measure, so work at it until you get the right texture and flavor)
Ingredients
½ can kidney or black beans
Peanut butter (or similar nut butter)
Cocoa powder
Honey, maple syrup, or agave syrup
Water, as needed
In your blender, add the ½ can of beans. We made this twice and seemed to prefer the version with kidney beans.
Then add the remaining ingredients. I would estimate it was about a cup of peanut butter, 2-3 tablespoons of cocoa powder, ¼ cup of honey, and then ½ cup of water. But, like I said play with the measurements as you blend to get the right texture.
Once it is well blended – it should be smooth – spoon it into a glass container and store in the refrigerator. It lasts about two weeks.
Enjoy on toast, waffles, or just on a spoon!
---