Annual Independence Car Show Donates Funds to Beebe Medical Foundation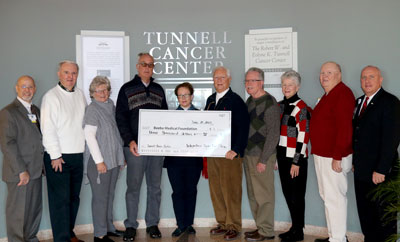 As a not-for-profit community healthcare system, Beebe Healthcare operates thanks to generous donations from the community. This is another example of a great partnership built with the community, said Thomas J. Protack, Vice President of Development for Beebe Medical Foundation. "It is so great to partner with the Independence Car Show Committee because their dedication to giving to our local cancer center is a wonderful testament to their community spirit and commitment to giving where they live."
The fifth annual Independence Car Show once again chose to donate the proceeds from its event to Beebe Medical Foundation. The check was presented recently at Tunnell Cancer Center, which will benefit from the funds.
The 2018 Independence Car Show is scheduled for June 9. There will be live music and food trucks. Last year's event featured 18 People's Choice awards, and 13 specialty trophies. The event drew 125 cars, which were registered in seven classes – Stock, Modified, Custom, Corvette (1953-1996), Contemporary Corvette, Import, and Independence Home Owners.
Shown (left to right) are Barry Hamp, Executive Director of Oncology Services at Beebe Healthcare; Independence Car Show Committee Members: Lenox and Prudence Garrity, Chairman Denny Spaulding, Tammy and Everett Toomey, Jack and Kitty Hartshorn, and Dick Coyne; and Thomas J. Protack, Vice President of Development, Beebe Medical Foundation.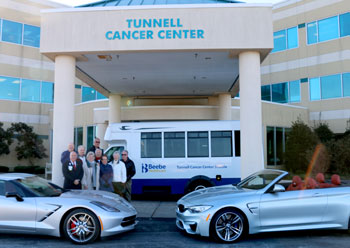 ---