Beebe Healthcare Welcomes Distinguished Surgical Oncologist Jesus Esquivel, MD
Image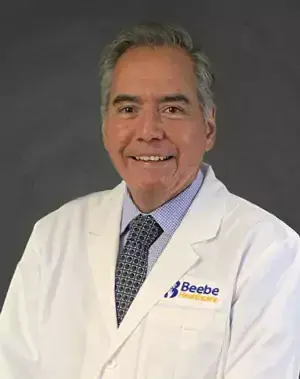 Beebe Healthcare is proud to welcome distinguished surgeon Jesus Esquivel, MD, FACS, to Beebe Medical Group.
Board certified in general surgery, Dr. Esquivel has decades of experience as a general surgeon and surgical oncologist with a fellowship in gastrointestinal cancer. Dr. Esquivel began seeing patients in June at Beebe Surgical Oncology located at 18947 John J. Williams Highway, Suite 205, Rehoboth Beach, DE 19971. To make an appointment, call 302-644-0964.
"Here at Beebe Healthcare, we are so excited to welcome Jesus with his diverse and innovative background in surgical oncology," said David A. Tam, MD, MBA, FACHE, President & CEO, Beebe Healthcare. "Beebe is committed to recruiting providers that can serve our community here in Sussex County. That is our goal as a community health system – to care for you when you need it, which is why it is so exciting to have added more than 55 providers since the start of the COVID-19 pandemic."
Dr. Esquivel completed medical school at the Universidad Autonoma de Tamaulipas in Mexico. His general surgery residency was completed at The New York Hospital of Queens in Flushing New York, and his gastrointestinal surgical oncology fellowship at the Washington Cancer Institute in Washington, D.C. A native of Mexico, Dr. Esquivel is fluent in Spanish and English.
Prior to joining Beebe, Dr. Esquivel was an Attending Surgeon and Director of the Peritoneal Surface Malignancy Program at Frederick Memorial Hospital in Maryland. He is a pioneer in the advancement of Hyperthermic Intraperitoneal Chemotherapy (HIPEC) for patients with advanced gastrointestinal and gynecological cancer. He also completes general surgery procedures. 
He specializes in combining cytoreductive surgery with Hyperthermic Intraperitoneal Chemotherapy (HIPEC) in the management of tumors that have spread in the abdomen. The combination of these treatments is considered an innovative procedure to treat cancer in the abdomen.
"Dr. Esquivel is one of the world's authorities on the HIPEC procedure that we provide at Beebe. With that, he brings a wealth of experience in the surgical field that will be welcome by the Sussex County community," said James Spellman, MD, FACS, Chief of Surgery at Beebe Healthcare. "Patients who deal with gastrointestinal cancers will not have to travel to have a surgical procedure, which is really what Beebe is providing for our community."
His clinical research is oriented at minimally invasive treatments and at identifying selection criteria for cytoreductive surgery and HIPEC in patients with colorectal cancer, appendiceal cancer, ovarian cancer and peritoneal mesothelioma. He has a particular interest in treating colon and rectal cancers from early stages to advanced tumors that require a multidisciplinary approach. He has published more than 80 manuscripts in peer reviewed journals and has written six book chapters.
Dr. Esquivel has vacationed in Rehoboth Beach with his family for years and is thrilled to now be living in and serving the community.
"I am thrilled to join a thriving organization like Beebe Healthcare," said Dr. Esquivel. "It is an honor and a privilege to be able to guide and assist our Sussex County patients in their cancer journey."
---