Beebe Healthcare Welcomes Infectious Disease Physician Anubhav Kanwar, MD
Image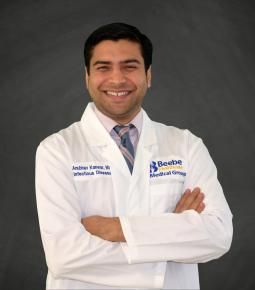 Beebe Healthcare and Beebe Medical Group welcomes Anubhav Kanwar, MD, an infectious disease physician, who now sees patients at Beebe Infectious Disease as well as in the hospital.
Dr. Kanwar is board certified in internal medicine and infectious diseases. He received his medical degree (MBBS) from Indira Gandhi Medical College in India. He completed his internal medicine residency at Oklahoma University Health Sciences Center and completed his fellowship in infectious diseases and HIV Medicine at Case Western Reserve University in Cleveland.
"We've seen firsthand during this pandemic how critical infectious disease experts are to our community," said Bobby Gulab, MD, Senior Vice President and Chief Medical Officer for Beebe Medical Group. "Beebe Medical Group is committed to bringing specialists to Sussex County, and we welcome Dr. Kanwar's expertise to care for our community."
He also earned a certificate in geographic information systems in public health and a certificate of knowledge in clinical tropical medicine and traveler's health from the American Society for Tropical Medicine and Hygiene.
Prior to joining Beebe Healthcare in 2020, he served as director of antimicrobial stewardship at Washington Hospital and as a member of the Antimicrobial Stewardship Advisory Group subcommittee with the Idaho Department of Health. He also spent time working for the Centers for Disease Control and Prevention and the National Institutes of Health in Bethesda, working with one of the brightest minds in infectious diseases - Dr. John Bennett. Dr. Kanwar is employed by Beebe Medical Group and is a member of Beebe Healthcare's Medical Staff.
"Infectious diseases are evolving as we have seen with COVID-19 and it further highlights the important role of infectious disease experts in handling and managing such pandemics," said Dr. Kanwar.
---