COVID-19 Recovery Phase & Safety for Our Patients
Prior to arriving to a Beebe care site, be sure you have scheduled an appointment for Lab, Imaging, Physical Rehabilitation, and other outpatient services (excluding Walk-In Care). In addition, everyone must wear a mask or face covering. When scheduling, you will be given instructions about new safety protocols that are in place. In addition, when arriving to your appointment, you may notice enhanced safety measures.
Visitor restrictions are still in place - these protect you, our patients, and our team. Visitors are permitted in certain situations, such as Labor & Delivery, palliative care, etc. Talk to your care provider, surgeon, or the patient experience team to understand visitation in your situation.
---
Recovery: What to Know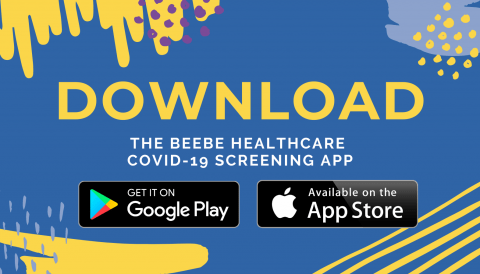 During the COVID-19 pandemic, we have worked to continue providing safe care for our patients, while also focusing on the safety of our team members, vendors, and visitors. As we move into the next phase, we continue to keep safety as our priority. We are putting measures in place at all of our care sites to help ensure everyone's safety.
Beebe is starting a phased recovery plan, which will allow those elective surgeries and procedures, which were postponed in March, to start to be completed in June and July. Many procedures were postponed, so please be patient with us as we work to get them rescheduled in an efficient and timely manner.
Everyone coming to a Beebe Location MUST wear a mask or face covering. Specific instructions will be given during registration to help you understand arriving and what your driver can expect as far as visitation.
Beebe offers a FREE app that allows anyone to answer screening questions related to COVID-19 and to help you determine if you should be tested. Download it on the Apple Store or Google Play.
What you can expect:
If you had a surgery or procedure postponed, you will receive a call from your doctor or surgeon to discuss rescheduling.
If you postponed or canceled a scheduled lab or imaging test, you will want to check with your provider to determine if a new order is needed.
If you have a lab or imaging order, you may call our Scheduling Line to schedule: 302-645-3278.
If you have put off a healthcare visit, whether to a primary care provider or specialist, you can call the office to reschedule.
If you are sick or have a worsening condition, please call your provider immediately.
Scheduling
Patients are welcome to schedule outpatient appointments. All patients must have an appointment prior to arriving at an outpatient location (excluding Walk-In Care). Everyone must wear a mask.
With an order, call 302-645-3278 to schedule your Lab or Imaging Appointment. With an order, call 302-645-3933 to schedule your Physical Rehabilitation appointment.
Beebe Physical Rehabilitation Services is open in Rehoboth at Lighthouse Plaza, in Georgetown, and in Millville.
Beebe Imaging is open at the Margaret H. Rollins Lewes Campus, Rehoboth Health Campus, Georgetown, Millsboro, and Milton.
Beebe Lab Express is open at the Rehoboth Health Campus, Georgetown, Millsboro, and Milton.
If you think you might have COVID-19, please call your provider immediately to be tested. If you do not have a provider, call the Coronavirus Screening Line at 302-645-3200.
"As with everything else Beebe does, this plan has safety as its paramount focus. Everyone at Beebe has been eager to get back to the New Normal as quickly as we can, and we knew that we had to wait until certain measures were in place, including a decline in cases and hospitalizations. Thanks to the hard work of my team and the community, it looks as though we have successfully flattened the curve and that it was safe to resume elective surgical cases in a phased manner," said David Tam, MD, MBA, FACHE, Beebe President & CEO.
When you go:
Patients are already used to a high standard of safety and quality at all Beebe care sites. The pandemic has created a need for an innovative expansion on those efforts. For this reason, patients will experience many safety measures in place at all of Beebe's care sites, conveniently located throughout Sussex County. Everyone at Beebe care sites must wear a mask or face covering.
You may notice:
Physical barriers like Plexiglas at registration areas
Visual cues on floors and other places to remind everyone about physical distancing
Reminders about the requirements of face coverings
Pre-surgery COVID-19 testing for all surgery patients
Scheduled appointments for all lab and imaging visits
Waiting room modifications
Car-side registration/waiting in some locations
Extra cleaning and disinfecting protocols.
---
Beebe Offers Telemedicine Visits
To provide access to healthcare for residents practicing social and physical distancing at home during the coronavirus (COVID-19) pandemic, Beebe Medical Group is offering telemedicine visits across all offices – specialty, primary, and walk-in care. During the first week of April, more than 1,000 visits were conducted across all of Beebe Medical Group.
---
Coming to a Beebe Campus?
If you are coming to a Beebe location for an appointment or scheduled procedure, here is what you can expect:
Everyone should wear a mask or face covering
You can expect to be asked COVID-19 screening questions, such as whether you have been sick or been around others who might be sick
You can expect to have your temperature taken
You can expect to see plexiglass dividers at some stations and visual cues on the floor to encourage physical distancing
Visitors restrictions are in place. If you are coming in for a procedure where you will be under anesthesia, the person driving you will remain in the waiting area or in their car depending on the location. Those admitted to the hospital will continue to not have visitors, except Labor & Delivery, palliative care, etc. Your care team or surgery team will inform you of what to expect in your specific situation.
Additional Resources