Beebe Endoscopy Center (BEC)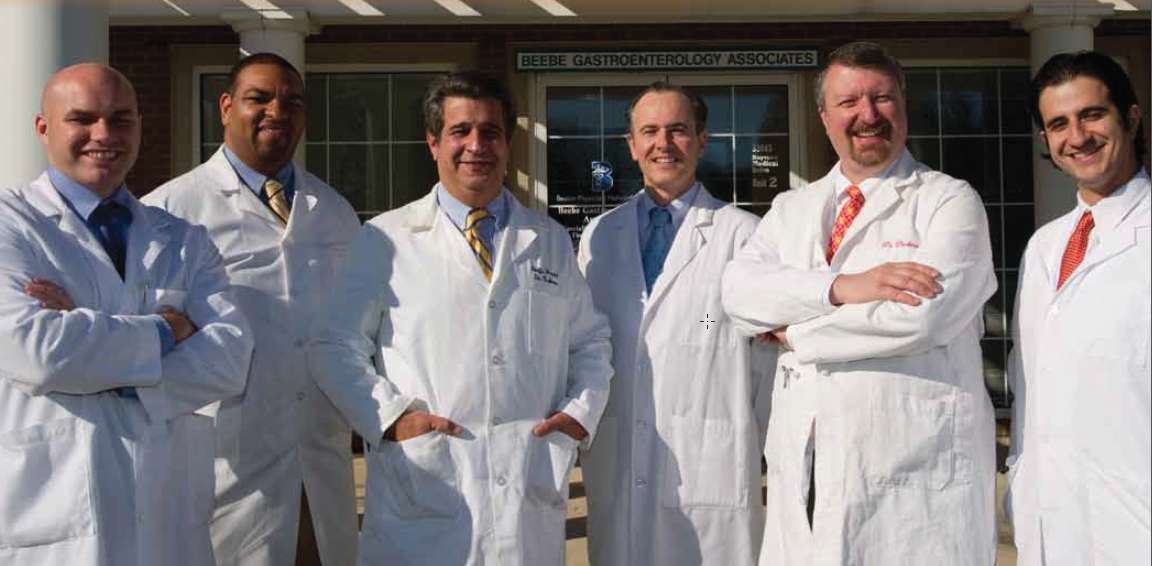 Doctors at the Beebe Endoscopy Center in Lewes at 33663 Bayview Medical Drive, perform colonoscopies and EGD or upper GI endoscopies.
Digestive Health Awareness
The human digestive system provides nutrients for the body and is the first line of defense against disease. Yet, more than 60 million people are affected by digestive diseases. Here are some tips to help keep your digestive system healthy.
Schedule Regular Colon Cancer Screenings
The American Cancer Society recommends the following testing guidelines for early detection of polyps and cancer for people over 50 at average risk for developing cancer:
• Fecal occult blood test (FOBT) every year*,**
• Flexible sigmoidoscopy every 5 years* or colonoscopy every 10 years
*Colonoscopy should be done if test results are positive.
**For FOBT used as a screening test, the take-home multiple sample method should be used. (Cancer.org Recommendations)
Recognize the Symptoms of Digestive Disorders
• Hepatitis: flu-like symptoms, dark-yellow urine, light-colored stools, yellowish eyes and skin
• Celiac disease (gluten intolerance): stomach pain, gas, diarrhea, weight-loss; itchy, blistering skin rash, changes in mood and extreme tiredness
• IBS (irritable bowel syndrome): abdominal pain or discomfort, chronic diarrhea, constipation, or both
• Diverticulitis: cramping in lower abdomen; blood or mucus in stool; low-grade fever
Seek medical help if you are experiencing any of these symptoms.
Follow a Healthy Lifestyle
• Avoid fatty foods
• Eat more fiber—fruits and vegetables
• Eat small meals
• Reduce stress
• Reduce sugar intake
• Exercise regularly
• Avoid smoking and drinking excessive alcohol
Beebe also operates the Bookhammer Outpatient Surgery Center (BOSC) at the health campus in Rehoboth Beach and Same-Day Surgery operating rooms on the second floor of the main campus in Lewes.
Beebe Endoscopy Center, Lewes: (302) 644-0455
*Scheduling for the Endoscopy Center is done through Beebe Gastroenterology Associates.