Beebe's Dr. Choy has Changed Thousands of Lives
By Judy Aliquo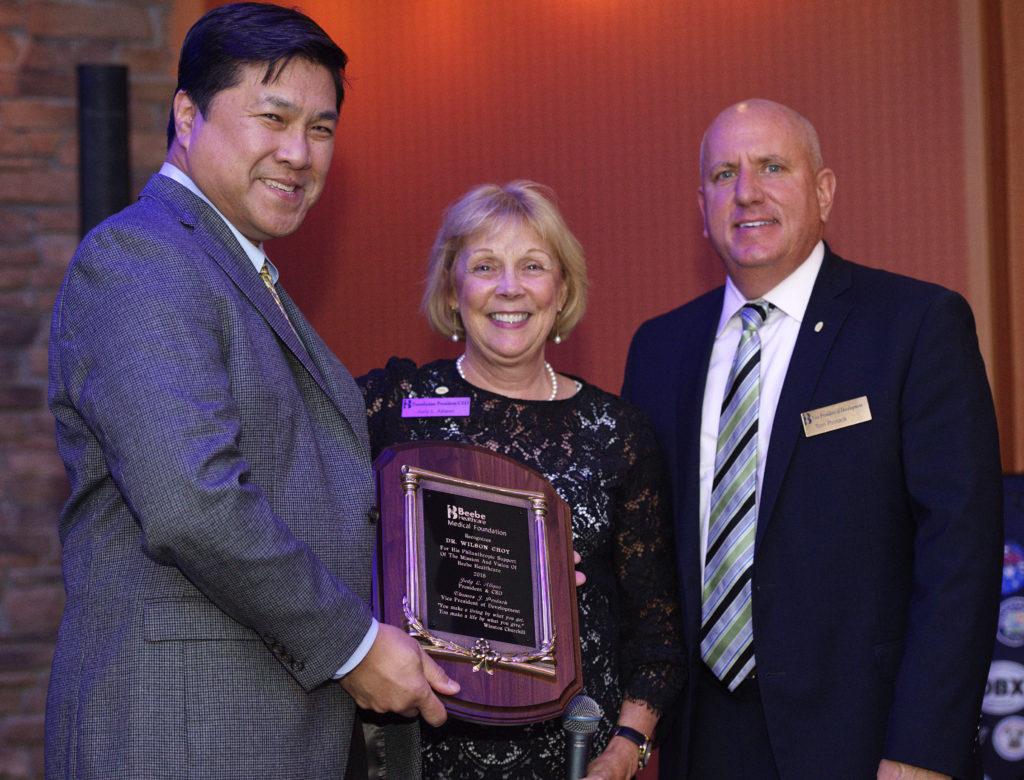 Dr. Wilson Choy receives the Physician Philanthropy Award from Beebe Medical Foundation's Judy Aliquo and Tom Protack
Dr. Choy is an extraordinary orthopaedic surgeon. He has changed the lives of thousands of patients at Beebe with new knees, hips and repairs of other joints. He is a true Beebe hero.
With Dr. Choy and Beebe's orthopaedic team, Beebe Healthcare is a recipient of the Healthgrades Orthopaedic Surgery Excellence Award™ for 10 Years in a Row (2007-2016), and was Named among the Top 10% in the Nation for Joint Replacement for 2 years in a row (2018-2019).
Dr. Choy is a true Beebe Believer and shows his support in countless ways. Each year, Beebe holds a new provider reception to welcome all of the new clinicians to Beebe. At that event, the Beebe Medical Foundation presents a Physician Philanthropy Award to honor a physician who contributes to Beebe, has been honored through the Celebrate Excellent Care Program with a gift from a grateful patient, who attends Beebe events and partners with the Foundation with grateful patients and their families. This year, we were thrilled to surprise Dr. Choy, who exemplifies all of the above and was selected for this year's recipient of the Physician Philanthropy Award.
Dr. Choy is a proud member of Beebe's 1916 Club. Our Club has 236 members who have joined Dr. Choy and contribute $1,916 or more annually to support Beebe—the best healthcare system in Sussex County. Dr. Choy and his colleagues, Dr. Farrell and Dr. Kane, always attend our Beebe Ball as a lead sponsors. And, Dr. Choy was one of the first Beebe Medical Center Board members and physicians to support the I Believe in Beebe Campaign. Dr. Choy's gift is directed to the Specialty Surgical Hospital that will be built at Beebe's Rehoboth Beach Health Campus on Rt. 24.
Dr. Choy has been on the planning committee for the Specialty Surgical Hospital. With Dr. Choy's leadership and many other end users input in the design process, it will be a world-class, destination outpatient facility where Dr. Choy and all of Beebe's surgeons will perform surgeries. Outpatient and short-stay surgeries offer many advantages to inpatient surgeries, without comprising the quality of care. Some advantages of outpatient surgeries include recovering in the privacy of your own home, less cost, and less stress than extended inpatient stay.
This Specialty Surgical Hospital will have a dedicated floor for Women's and Children's Health Services and Labor and Delivery and will be the future home for Beebe's newly created Center for Robotic Surgery. The plan is to break ground on the facility this spring and open in December 2022.
"I am very excited to help propel Beebe into the next stage of Healthcare for our community." said Dr. Choy. "The leaders of Beebe have been steadfast at maintaining and updating the Hospital's infrastructure and bringing services into our secondary service areas. This campaign now focuses on enhancing the patient experience with the quality programs that we already have, such as orthopaedics. In addition, this campaign will also allow us to step forward into the future of Robotic Surgery and Cardiothoracic Surgery here in Sussex County. Funding will also help enhance the Interventional Cardiology program. We are exciting for not just growing the Beebe family, but excited about bring the future here to the people we love here on the Delmarva Peninsula."
People throughout Sussex County have regained their strength and mobility thanks to the care and treatment that Beebe's Orthopaedic Services provides. Dr Wilson Choy is a Board Certified Orthopaedic Surgeon who is fellowship trained in Joint Replacement and is part of a team of local Beebe orthopaedic surgeons who see patients in their offices and at the Medical Center at the Margaret H. Rollins Lewes Campus. When certain surgeries are necessary, Beebe orthopaedic surgeons work with dedicated surgical teams at Beebe, as well as with orthopaedic nurses, physical and occupational therapists, case managers, and home health professionals well trained in getting patients back on their feet again.
Beebe utilizes advanced techniques in surgery to best treat all of our patients. Spine surgeons also use several different minimally invasive procedures to treat and repair spine problems and injuries. These surgical approaches usually mean that patients recover more quickly with less pain and are back on their feet sooner.
Beebe Healthcare is accredited through the Joint Commission and has received The Joint Commission's Gold Seal of Approval® for Joint Replacement – Hip, Joint Replacement – Knee, and Spine Surgery. The Gold Seal of Approval® is a symbol of quality that reflects an organization's commitment to providing safe and effective patient care. To earn this recognition, Beebe underwent a rigorous on-site review that included assessment of clinical practice guidelines and performance measures.
As a community-based, not-for-profit healthcare system, Beebe Healthcare depends on the generous support of the community. All gifts to Beebe are tax-deductible and are channeled through Beebe Medical Foundation. To give today, please contact Beebe Medical Foundation at (302) 644-2900 or [email protected].
---