Beebe's Holiday Tradition Lives On
By Karen Duffield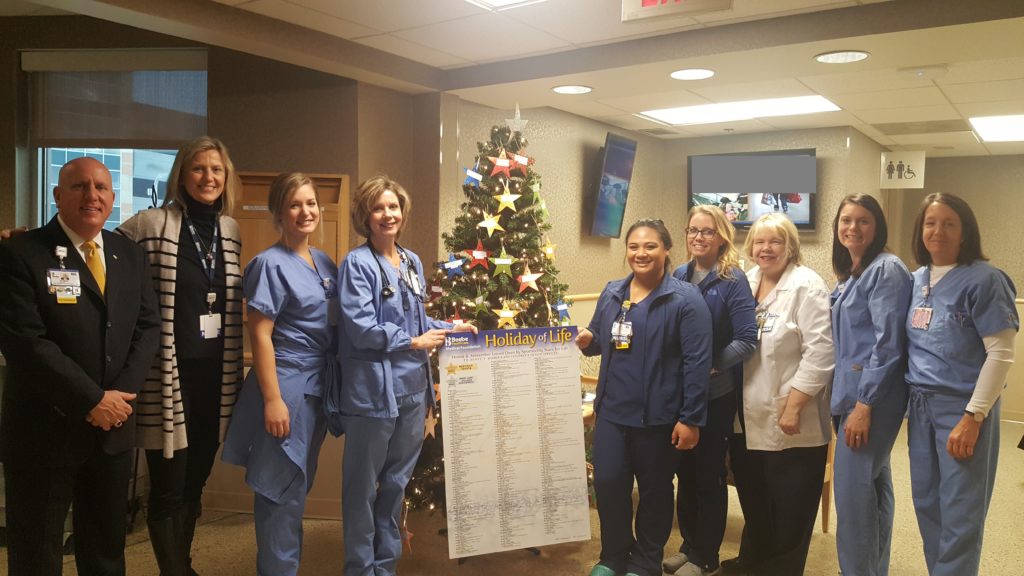 Beebe Team members who helped lead the 2017 Holiday of Life program and raised over $21,000 for Women's and Children's Health Services, gathered around one of the beautiful trees on display at Beebe's Margaret H. Rollins Lewes Campus.
Standing L-R: Thomas J. Protack, Vice President of Development; Bridget Buckaloo, Executive Director Women's and Children's Health Services; Anna Merrick RN; Jen Horner RN; Lydia Martin RN; Cassie Reed RN; Lisa Klein DNP; Amanda Biro RN; and Celia D'Orazio RN.
"The holidays are a special time to remember and honor those people who have touched our lives," says Judy Aliquo, President and CEO of Beebe Medical Foundation. "Our annual Holiday of Life program is a perfect opportunity for Beebe Team Members and the community to donate 'In Memory of' or 'In Honor of' those special people."
The Holiday of Life program has always been a popular and meaningful way for members of our community to give a gift in honor of or in memory of someone special, and a charitable way to support Women's and Children's Health Services at Beebe. This year, Beebe's Tunnell Cancer Center is also a beneficiary of the program, and donors can choose to designate their gift to either service line. The Beebe Medical Foundation hopes the 2018 Holiday of Life program will raise at least $25,000 to support these vital departments at Beebe.
This year, stars will sparkle with the names of friends and loved ones being honored and remembered, and will hang from the branches of a tree displayed at the Margaret H. Rollins Lewes Campus and in the lobby of the Tunnell Cancer Center at the Rehoboth Campus on Route 24.
Ken Jackson, Jr., one of the first supporters of this holiday fundraising tradition, which has evolved from an outdoor, tree-lighting event (Holiday of Lights) to the current, indoor display of star decorations (Holiday of Life) has sponsored a light or star every year since the original program began in 2003. His gift is always made in memory of his mother, Marjory Ethel Derrickson Jackson, R.N., a graduate of the 2nd class of students from the Beebe School of Nursing. "I love being able to honor and remember my mother," said Mr. Jackson, "while at the same time supporting Beebe, which meant so much to her."
Holiday of Life has various levels of giving from $25 to $500, and up to 10 special names can be listed accordingly on different colored stars. Hertrich Toyota returns to shine as a $2500 Gold Sponsor of the program, and a sterling $1000 Silver Sponsorship has already been made in memory of Mary Jane Lockard. To sponsor your Stars for Life, please go online and make your tax-deductible gift to support Women's and Children's Health Services or Tunnell Cancer Center at https://www.beebemedicalfoundation.org/donate/holiday-of-life/; fill out the Holiday of Life brochure you may have received; or call Karen at the Foundation at 302-644-2900 ext. 70222. To guarantee that you are recognized as a Holiday of Life sponsor, please make your gift by December 14th.
Memorial and honorary giving, whether made during the holidays or throughout the year, are beautiful ways of remembering special people while supporting Beebe Healthcare to change and save lives every day. Thank you for supporting Beebe Healthcare, and participating in this lovely holiday tradition.
---