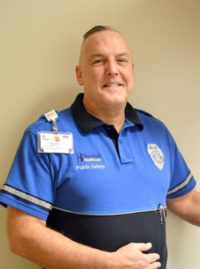 Beebe team members know that to have the best work environment and provide the best patient experience, it all starts with love.
Patrick Carmody (pictured), the recent L.O.V.E. Letter Award recipient, said he often sends L.O.V.E. notes to his team members, but receiving the award put the team member recognition program in a different light for him.
"It just makes you realize that everything you do every day has the potential to have a positive effect on someone," Patrick said. "I feel so honored to have been chosen to receive the award."
Living Our Values
Beebe Healthcare's Living Our Values Every day (L.O.V.E.) Notes program was created in 2015 after a taskforce worked to create the Beebe Values. Each team members pledges to follow these values:
Do what it takes to keep everyone safe
Do it right the first time, every time
Treat each individual with respect and dignity
Build trusting relationships with compassion and kindness
Achieve amazing accomplishments through exceptional teamwork
Act with passion and love for others to make a difference
Listen carefully, have the courage to communicate honestly and effectively
Dedicate yourself to being an expert in your field, always learning, always growing.
More than 63,000 L.O.V.E. Notes have been sent and received since the start of the program. Of the notes sent each month, one is chosen as the L.O.V.E. Letter. This recognition is given to a team member who went above and beyond. It is similar to an employee of the month program. Winners are announced in a surprise ceremony in which the committee visits the winner in his or her department and presents the award.
Employees selected for the award receive:
Parking space in the parking garage for one month
$100 gift card donated by Fred and Lyndie Hertrich
100 points toward Beebe L.O.V.E. Notes Merchandise
100th Anniversary History Book: Two Men With a Dream: The Story of Beebe Healthcare
Letter of congratulations and personal visit from members of the executive team
Their photo added to the L.O.V.E. Letter wall plaque
Letter to team member's director and department recognition
---