John & Sharon Kennedy: South Coastal Residents Share Excitement for Planned South Coastal Health Campus [VIDEO]
John and Sharon Kennedy of Ocean View were excited to learn Beebe Healthcare would be building a South Coastal health campus just south of them.
The couple has had more than a dozen trips to Beebe's Emergency Department in Lewes. Sharon says knowing there will be a new free-standing emergency room near them eases her concerns.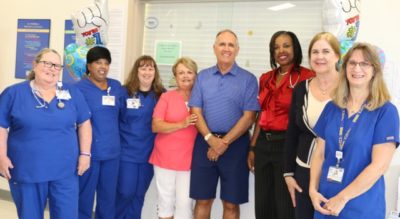 The couple moved to Ocean View full-time after living in the Dover area for many years. They built their home and have enjoyed many of the amenities of their new community, including the golf course, social hours, and dining options.
However, when John's atrial fibrillation or AFib started acting up again about a year ago, he and Sharon were making regular trips up to the emergency department in Lewes.
"While no one likes going to the emergency department, I was almost comfortable on those car rides because I knew that soon I would be receiving excellent care," John said.
When his heart condition didn't improve, John had an interventional cardiology procedure at Beebe's cardiac cath lab. Over the next several months, the heart rhythm issues he had been experiencing were diminished.
In addition to his procedure with Dr. Mouhanad Freih, interventional cardiologist, John has also had joint replacement surgery with Dr. Wilson Choy.
"All of my experiences with Beebe – both in the hospital and after surgery with physical therapy or Beebe Home Care Services – have been exceptional," John said.
Sharon agreed, saying, "We are very lucky to be able to live in this area and we are very lucky to have Beebe's services."
---