Q&A with Dr. Steven Berlin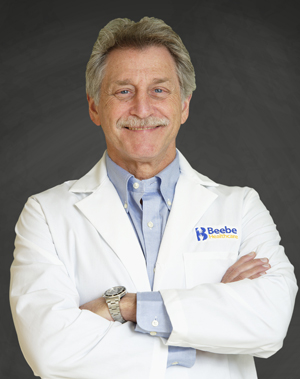 Steven Berlin, MD, OB/GYN, with Beebe Women's Healthcare – Bayside, has been practicing in the community for 25 years, and he's dedicated to bringing our community the newest innovations in treatment and care. "For the past 25 years, I've made this my life's career, and women's health means more to me today than ever," said Dr. Berlin. "My philosophy is to offer the best care, education, and support to the community in which I live."
Beebe Women's Health is continuing to evolve with new in-office procedures and treatments as well as the addition of minimally invasive and robotically assisted surgical techniques. Dr. Berlin shares why he is excited for the future of care here at Beebe.
WHAT ARE THE LATEST ADVANCEMENTS THAT YOU ARE SEEING BOTH IN YOUR OFFICE AND AT BEEBE?
DR. BERLIN: The team here at Bayside developed a very successful minimally invasive surgical program in Women's Health and General Surgery. We have also seen recent improvements in breast cancer screening with 3D mammography, available in multiple locations such as Rehoboth Beach, Millville, and Georgetown. We are excited to join Beebe's Center for Robotic Surgery to offer robotically assisted gynecologic surgery for our patients.
HOW ARE THESE ADVANCEMENTS HELPING PATIENTS?
DR. BERLIN: Minimally invasive surgery offers less pain, quicker return to lifestyle, a more cosmetically pleasing result, less blood loss, decreased rate of infection, and a decreased need for narcotics. Early diagnosis is still the most important aspect of treatment, and we are finding that with today's technology, we are able to find and treat illness earlier.
HOW DOES BEEBE BRING INNOVATIONS TO OUR COMMUNITY?
DR. BERLIN: By bringing the minimally invasive surgical program to Beebe in 2008, we have consistently attracted talented physicians and nurses to enhance the quality of care delivered. These physicians have continued to create new programs, bring new skills, provide new technology, and deliver a wide variety of services for the people in our community.
A Heart for our Community
Many Beebe physicians and team members tell us that they came to Beebe because they fell in love with the community. According to Dr. Berlin, he loves practicing in Lewes because he gets a chance to truly know his patients and help them be healthier.
"My children have grown up here, and I want their future to include excellent healthcare, close to home," Dr. Berlin said. "It's rewarding when patients are satisfied leaving our office because they are receiving excellent care from the staff and doctors.
My patients leave my office healthier than when they walked in the door, and that is because we treat them the same as we would treat our own family."
For more information, contact Beebe's Women's Health Nurse Navigator, Carrie Snyder, at [email protected] or call (844) 316-3330.
Beebe Women's Healthcare - Bayside: (302) 645-4700.
Beebe Women's Healthcare - Plantations: (302) 480-1919.
---