Lung Cancer Surgery Meant Only One Night in Hospital for Millsboro Man
When Charley and Mary Senick retired from the police force in Philadelphia, they were ready to relax and enjoy themselves.
The couple had regularly vacationed in Wildwood, New Jersey, and thought that someday that would be where they retired.
That was until the mid-1990s when a friend invited them to visit Delaware.
"We visited them in Long Neck and weren't even here for an hour before we decided we would buy here," Mary recalls. "We moved down to Pot-Nets Creekside full-time in 2001 and love it here. It's the quiet neighborhood, the friendly people, and the great amenities that really make it home."
Both Charley and Mary had smoked for years as police officers, however when their daughter told them she would not bring their soon-to-arrive grandchild into a smoking home, they decided enough was enough.
"It's really a personal decision to quit smoking. We are so glad we did, but we don't push it on anyone who still smokes," Charley says. "Yes, it is hard to quit, but honestly, after two weeks on Chantyx, it was like I never smoked."
Mary agreed. "Granted we had the excitement and goal of having our grandchild come here, however we quit and have not missed it," she said.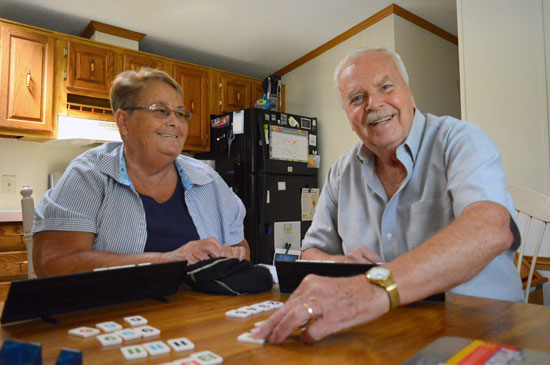 A Scary Diagnosis
It was because of his long-time smoking habit that Charley's primary care physician, Dr. Matthew Tulloch of Beebe Family Practice – Beacon ordered regular lung scans.
"I had been having the CT scans for a few years and there was never anything," Charley said. "Then earlier this year, Dr. Tulloch said there was a spot he was concerned about, so I went for a biopsy."
Charley and Mary met with Dr. Vikas Batra of Sussex Pulmonary and Endocrine Consultants in Lewes. Dr. Batra performed the biopsy at Beebe and found the suspicious spot was cancer.
"We heard him say it was lung cancer and Mary immediately went into panic mode," Charley recalls.
"It is incredibly scary when they say it is cancer and you start thinking about how you are going to get through it all," Mary said. "I started thinking that there was no way I could get a hospital bed into our house!"
Charley's father had had lung cancer many years ago and so Charley and Mary recall how traumatizing the surgery had been for him. "They had to open up his chest and there was a large incision. It was more than a year of recovery, so that's what we had in our minds – pretty scary."
Having Surgery
When Charley arrived at the Margaret H. Rollins Lewes Campus that Thursday for the procedure.
"Everything was so smooth. All the people were friendly, they explained everything to us – it was really just a well-oiled machine," Mary recalls.
The surgery took about two hours. During the procedure, the operating room nurse called Mary to assure her everything was going well. Mary and her friends were able to relax in the waiting room and follow Charley's progress on the waiting room screen.
"After it was done, I was told Charley was great," Mary said. "I was so relieved and couldn't wait to see him."
When Mary arrived at the ICU room to see Charley, she expected him to be worn-out looking. However, Charley was already awake and smiling.
"The first thing he asked was if he could have some coffee! That's when I knew he really was going to be OK," Mary said.
"For me, it was like, I went to sleep and woke up. I felt a little sore, but it certainly didn't feel like I had just had major surgery," Charley said.
Going Home
The next morning, Mary was still asleep when the phone rang. "It was Charley asking what I was doing," she said. "It was 5:30 in the morning, so of course, I was asleep! Then he's telling me to come on in because he might be ready to go home. I thought he was joking."
When Mary got to Beebe's Lewes Campus that Friday morning, she talked to Charley's care team and several other groups of doctors and surgeons who were visiting to see how Charley was doing.
"There were whole surgical teams coming in to talk to us about Charley's surgery because he was one of the first robotic surgery cases. Everyone was excited because he was doing so well," Mary said. "They said Charley could actually go home that day!"
After having lung surgery at 10 a.m. on Thursday, by 12:30 p.m. on Friday, Charley and Mary were in the car headed for home.
"The whole experience was just fantastic," Charley said. "I left the hospital and didn't need to be on any pain medication. I think I took one Aleve the whole time during recovery."
Charley and Mary say they are thrilled every day for every moment. It gives Charley more time to continue to beat Mary at cards and Rummikub – one of their favorite games. It also gives them time to plan to travel to see family and to get to Disney World – one of their favorite travel destinations.
"When we heard cancer, I thought, this is it, this is terminal. It's amazing what technology is out there today and even more incredible to have it right here at Beebe," Mary said. "We could not have asked for a better experience – or a better outcome. We are so lucky to have Beebe. Now, I have more time to try to win at cards and we can spend more time together – even though we are never going to grow up!"
Learn more about Beebe's Center for Robotic Surgery: www.beebehealthcare.org/robotic-surgery.
If you or a loved one smoke, Beebe offers free smoking cessation counseling in addition to its advanced lung program: www.beebehealthcare.org/smoking.
---