Tunnell volunteer builds dollhouse for Nov. 17 Beebe Ball fundraiser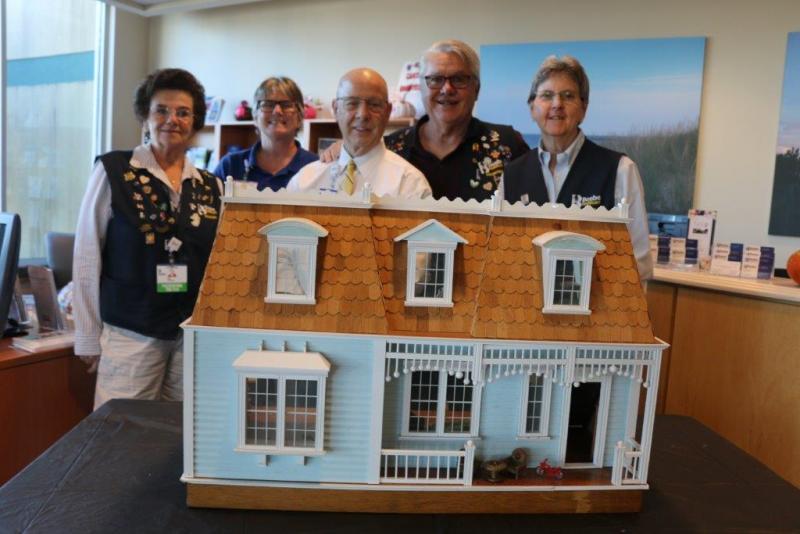 This Baltimore Colonial dollhouse built by Beebe volunteer Grant Kingswell will be auctioned Nov. 17 at the Beebe Ball to raise funds for Tunnell Cancer Center. Shown are (l-r) volunteer Lil Giuliano, Customer Service Liaison Candi Corsiglia, Executive Director of Oncology Services Barry Hamp, Kingswell, and volunteer Sharon Denney.
Grant Kingswell is a man of many talents. Born of British parents, moved to the United States as a teenager, he has never let anything stand in the way of his creativity. Having resided in three countries and seven states, he is not a man to be easily content with life passing him by. Settling in Lancaster, Pa., he expressed his talents in the hairdressing field. After a career of 55 years, he retired to this area, first coming only on weekends, but now calling the beach his home.
Shortly after retirement, he had a cancer scare which led him to Beebe's Tunnell Cancer Center for treatment. While there, he discovered the Jean and Joan Reflection Center. He inquired further and learned the vision was to use the center for programs to help those going through treatment look better and feel better about themselves. The mission of the reflection center is to provide a wide range of information as well as physical and emotional recovery services for breast cancer patients. Image recovery is a key goal of the reflection center, which offers wig and prosthesis fittings. The creation of the Jean and Joan Reflection Center was generously funded by the Jean and Joan Charity Golf Classic, now entering its 20th year at Kings Creek Country Club.
Grant had helped organize a similar startup in Lancaster called the Look Good Feel Better Program, a non-medical, brand-neutral public service program that teaches beauty techniques to people with cancer to help them manage the appearance-related side effects of cancer treatment. The program includes lessons on skin and nail care, cosmetics, wigs and turbans, accessories and styling. All these things can help people with cancer find some normalcy in a life that is by no means normal.
Grant had now found another outlet for his remarkable talents and caring attitude. He applied to be a Beebe Healthcare volunteer and began helping one morning a week. He works on average with three patients a week to fit and style wigs. Grant helps patients select the right one and then custom cuts and styles it to the patient's liking. This is a free service offered by Tunnell Cancer Center. As with his initial project in Lancaster, he said, "It's all about helping the person to feel good."
In his younger years as an ambitious young man with many talents, Grant enjoyed flipping houses. Through that pursuit, he discovered a love of woodworking with emphasis on detail. When he retired to his newly built home in Rehoboth Beach (no doubt with many fine decorative touches), he gave up the hard work of flipping houses. Instead, he turned his attention to much smaller abodes – dollhouses – and this has become his main hobby. His basement workshop houses materials he finds by combing yard sales and antique centers, and with those, he has created seven miniature delights.
No. 7 is a very special project, a Baltimore Colonial which has been built to raise funds for Tunnell Cancer Center. This dollhouse, complete with furnishings and including a living room, eat-in kitchen, bathroom, and master and children's bedrooms, will be up for auction at the annual Beebe Ball Saturday, Nov. 17. Not only did he create it to raise funds, but also in recognition of and gratitude for the cancer center's frontline staff and volunteers.
He said, "Our customer service liaison, Candi Corsiglia, and all who staff patient registration, plus the many volunteers, are amazing and incredible! They are the unsung heroes as they work to attend to patients and their families when they first enter the center's doors."
Tunnell Cancer Center is accredited by the Commission on Cancer of the American College of Surgeons and the Quality Oncology Practice Initiative Certification Program, recognizing excellence in providing quality cancer care.
As a community-based, not-for-profit healthcare system, Beebe Healthcare depends on the generous support of the community. All gifts to Beebe are tax-deductible and are channeled through Beebe Medical Foundation. In-kind gifts, such as the donation of Grant's dollhouse, also provide a unique opportunity for support. Contact the Beebe Medical Foundation at 302-644-2900 or [email protected] for more information.
---