From Stressed Executive to Healthy & Empowering
Last year, Ellie Nazemoff was living what she always thought was her dream. She was the owner and operator of a firm with contracts with the federal government. She hob-knobbed with the political elite and knew her way around the D.C. metro. She had raised two beautiful children who were now working toward their own successful careers.
However, inside, Ellie felt her body was screaming.
"I was incredibly sick. I was tired all of the time. My blood sugar was out of control. I was overweight. I didn't know what was wrong," Ellie recalls.
She had a vacation home in Bayside – Selbyville, so she decided to take some time off, come to Delaware, and try to get to the root of her health issues.
While she was at Bayside, she saw a notice about a talk that was coming up featuring Beebe leaders.
"I decided to go and see what it was all about," she recalls.
During the talk, Ellie learned about Beebe's services and facilities expansion plan, which included a new South Coastal Health Campus near Millville. She also learned about the free classes and events Beebe holds annually throughout Sussex County.
"After the talk, I went up and talked about how I had been so sick. I explained that I didn't know any doctors in the area that could help," Ellie said. "I was introduced to Rachel Mavity who immediately helped connect me with Beebe Endocrinology – Millsboro."
Ellie began having regular appointments with the care team at Beebe Endocrinology - Millsboro and, for the first time in quite some time, she started finding answers.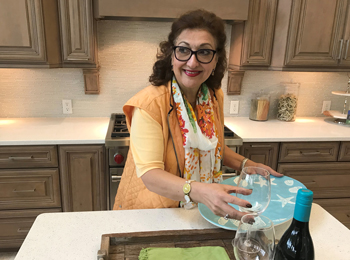 "I was suffering. A lot of it was stress, but there were also medications I was on that weren't working for me," she said.
Throughout her health journey, Ellie knew she needed to take the reins, so she enrolled and earned her Doctorate in Integrative Health through Arizona Integrative Health Center, founded by health pioneer Andrew Weil, MD.
"While we do depend on our doctors and care providers to help guide us, we also need to be the maestro of our own health symphony," Ellie said. "I learned that so much about how our health is about our mindset – you need to take care of mind, body, and soul."
Back to D.C.
During her time in Delaware, Ellie began focusing on herself. She walked every day, started golfing more, and focused on taking care of her whole self – mind, body, and soul. When she returned to D.C., a colleague remarked at how great Ellie looked.
"She asked me what I was doing and I told her – I am spending more time in Delaware. She told me – you need to keep doing that," Ellie recalls.
"And, it made me think. Why am I going back to my old life where I was so sick? It is time for me to find my new life – a life where I am healthier and happier."
The Health-Stress Connection
"Many people do not realize how the stress in their lives also affects their health," Ellie noted. "I was ready and willing to take steps to regain my health."
At first, Ellie needed to focus on getting the stress under control while her care team worked with her to sort out her medications. Ellie stopped taking a few medications right away and then worked to adjust the other medications as she started to feel better.
After several months of effort to reduce stress, eat healthier, move more, and lose weight, Ellie was able to report that she is off of most of her medications.
"It is a whole new world for me now. I do not have to be so focused on taking this medication at this time or that one with food or whatever," Ellie said. "I am back to being me and I wouldn't have been able to do that without the good people at Beebe. Everyone really cares about my health and works with me – my thoughts and research are taken into consideration."
Beebe Endocrinology strives to help patients feel better. It is not always about more medication – sometimes it is about less medication. It is always about doing what is best for each individual.
For Ellie, she is continuing to explore additional ways that support many people to gain a balanced lifestyle as she currently, passionately, is helping others with their journey to living an intentional happy and healthy lifestyle.
Learn more about Beebe Endocrinology: https://www.beebehealthcare.org/endocrinology.
---