What is a Neonatal Nurse Practitioner (NNP)?
A neonatal nurse practitioner (NNP) is a registered nurse with advanced education and certification in diagnosing and treating illnesses and with clinical expertise in neonatal medical care. NNPs receive a formal education with supervised clinical experience in the care of newborns. They manage newborn patients with consultation and collaboration with a medical doctor. Using their acquired knowledge of pathophysiology, pharmacology, and physiology, NNPs exercise independent judgment in the assessment, diagnosis, and treatment of infants and in the performance of certain delegated procedures. NNPs also focus on prevention, wellness, and education.
Highly Skilled Care Provided by our Neonatal Nurse Practitioners
During your birthing experience at Beebe Healthcare, a pediatrician, or one of our neonatal nurse practitioners, will care for your baby following delivery. The Beebe Healthcare neonatal nurse practitioners are Nancy Forsyth, MSN, RN, NNP-BC; Terry Hess, RN, NNP; Rosemarie Pomilla, BA, BSN, CRNP; and Karen Smail, MSN, NNP, PNP. Each of these specially trained and veteran nurse practitioners has more than 20 years of experience. They provide immediate medical care and stabilization for sick newborns.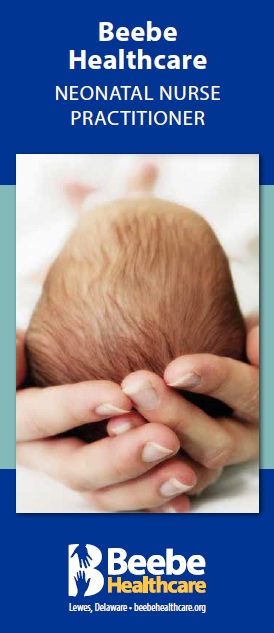 For more information on Beebe's Neonatal Nurse Practitioners, download our brochure (PDF).