American Legion Post 24 Presents Gift to Beebe Medical Foundation's "I Believe in Beebe" campaign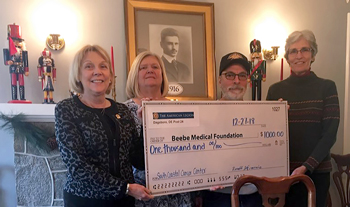 American Legion Post 24 in Dagsboro recently presented the Beebe Medical Foundation with a generous gift of $1,000 for the I Believe in Beebe campaign in support of Beebe Healthcare's expansion projects in the South Coastal area of Sussex County.
Beebe's Creating the Next Generation of Care projects include a freestanding emergency department and second cancer center, which are under construction on Route 17 near Millville.
Billy Hitchens, Commander of Post 24, said, "We are here to serve our local community and are interested in supporting its health, so making this gift to Beebe's new South Coastal Health Campus fits our mission."
American Legion Post 24 was chartered in 1992 and brings together men and women from all walks of life with one common bond—honorable military service to our country. Commander Hitchens added, "Our door is always open to serve our neighbors."
Shown (left to right) are Beebe Medical Foundation President Judy Aliquo, Post 24 Auxiliary President Donna Difrancis, Post 24 Adjutant Ron Difrancis, and Beebe Medical Foundation Gift Planning Officer Diane Barlow.
To learn more about Beebe Medical Foundation and how you can donate, call (302) 644-2900, email [email protected] or go to www.beebemedicalfoundation.org. All donations to Beebe Healthcare, your not-for-profit community healthcare system are tax-deductible through Beebe Medical Foundation.
To find out how Beebe Healthcare is Creating the Next Generation of Care for the community, go to www.nextgenerationofcare.org.
---