Beebe Center for Breast Health Now Open in New Office on Rehoboth Health Campus
Image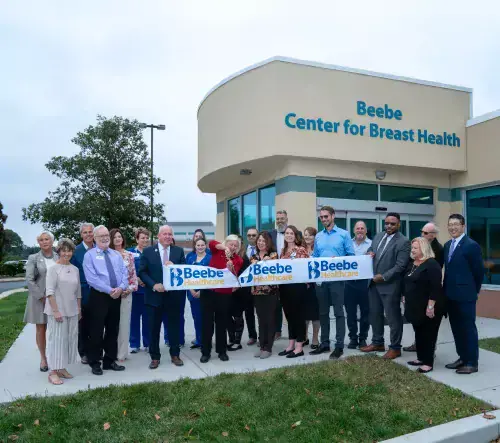 Beebe Healthcare is pleased to announce the Beebe Center for Breast Health opened Monday, Oct. 2, in its new location on the Rehoboth Health Campus.
Beebe held an open house and ribbon cutting last week at the Center at 18941 John J. Williams Highway, which was previously a Walk-In Care Center, but was remodeled and designed for patients. Last week's attendees toured the spaced and learned how Beebe has made Sussex County a destination for breast care that delivers a superior patient experience.
That experience starts with a unified location for all patients' breast health and cancer needs. What makes this new Center for Breast Health special is the design to have services and technologies in a centralized location with an emphasis on diagnosis and treatment by Beebe's compassionate team of experts. Patients have access to timely appointments, breast surgeons, nurse navigators, medical and radiation oncologists, diagnostic imaging and lab, and social services all on the Rehoboth Health Campus where the Center for Breast Health is located.
"Throughout my career, I've learned that receiving care in a familiar, welcoming environment improves a patient's experience during such a difficult journey. It is one less thing you have to worry about if all your services are in one place," said Diana Dickson-Witmer, MD. "What Beebe and our team have done is special – we have built a destination for breast care in Sussex County that will deliver a superior patient experience."
The Center is the only breast center in Delaware which is accredited by the National Accreditation Program for Breast Centers and was one of only six such programs selected from the 600 nationally to pilot new standards for the NAPBC, a testament to Beebe's focus on quality and safety in addition to delivery of patient centered care.
Caption: Diana Dickson-Witmer, MD, cuts the ribbon to celebrating the opening of the Beebe Center for Breast Health in its new home.
For more information visit our Breast Health page, or call to make an appointment, call 302-703-3595.
---