Beebe Healthcare Publishes Children's Book in Celebration of 100th Anniversary
Book previewed at Milton Elementary School
As part of the 100th anniversary celebrations, Beebe Healthcare has published a heart-warming, children's illustrated book entitled Beebe's Big Birthday.
Beebe's Big Birthday is told through the eyes of Anna Beebe Moore, daughter of co-founding brother Dr. Richard. C. Beebe and niece of co-founding brother Dr. James Beebe, Sr. Her smiling face appears in the beginning and in the end as she recounts in poetic fashion how the hospital came to be, and how different everything is today from what it was in 1916.
The illustrations are bold and colorful, and based on authentic historic photographs, as well as on those from modern day. Anna Beebe Moore, who lives locally, took an active role in the creation of the book, which was written by Author Denise Blum and illustrated by artist Lori Shields, in coordination with a dedicated team of volunteers from Beebe and the community.
"I want to thank all those who volunteered their time in finding photographs and information, and in reviewing copy, illustrations and pages, so that we could create this wonderful book, which tells Beebe's story and that will help children understand more about hospitals and the people who work in them," says Jean Winstead, Co-Chair of the Beebe Healthcare 100th Anniversary History Committee.
"This extraordinary effort was led by Alison Myers and her committee over the past year, and they have really put together a wonderful story that will be enjoyed by all ages for many years to come," says Lynn Bullen Wilkins, Co-Chair of the History Committee.
Beebe's Big Birthday not only tells the story of how the two brothers founded the hospital in 1916, but also introduces young readers to Beebe team members who open their hearts to patients and their families. The Children's Book Committee consisted of Alison Myers, project Leader, Stephan Betins-Kinnamon, Chanta Howard-Wilkinson, Edilu Nehrbas, and Jeanne Smith.
Fifth-grade students at Milton Elementary School recently enjoyed the first public reading of the book by Jeffrey M. Fried, FACHE, president and CEO of Beebe Healthcare. The special reading took place as fifth-grade student Nathanael Taylor was recognized for winning last year's art contest with his drawing of what Beebe will look like 100 years from now. His colorful, futuristic drawing appears on the back cover of the book.
At the reading, Nathanael was presented with a framed portrait of his drawing and his classmates received free copies of the book. Anna Beebe Moore, her son, Alex Moore, and her great-grandchildren were special guests at the event. On behalf of the Beebe Family, the Moores presented Nathanael with a scholarship for a week long camp at The Rehoboth Art League this summer.
"Beebe's Big Birthday" has English and Spanish versions and is available for purchase for $10 online at Commemorative Books. It also is sold in the Delaware Beaches area at the following locations: Beebe's gift shop at Beebe Healthcare in Lewes; The Lewes Historical Society gift shop; Kids' Ketch toy store on 2nd Street in Lewes; Browsabout book store on Rehoboth Avenue in Rehoboth Beach; and Bethany Books on Garfield Parkway in Bethany Beach.

Milton Elementary Celebrates Beebe Children's Book: Fifth grade students at Milton Elementary School surround Anna Beebe Moore, daughter of one of the founders of Beebe Healthcare, and Jeffrey M. Fried, FACHE, President and CEO of Beebe Healthcare, as well as members of the Beebe family, the 100th Anniversary Coordinator, and Committee Members.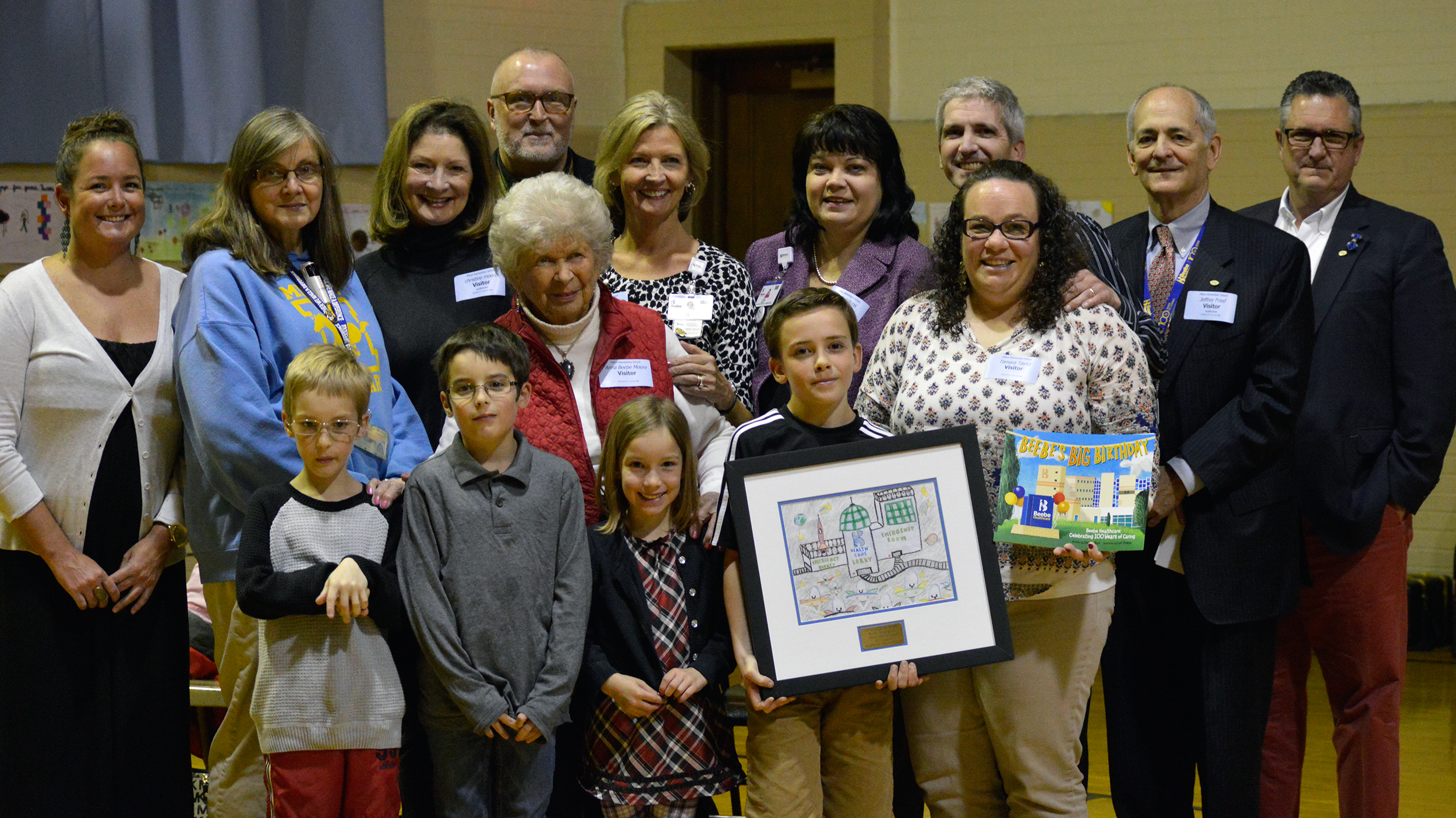 Nathanael Taylor was presented with a framed copy of the picture he drew for the 100th Anniversary children's book by members of the 100th Anniversary Committee.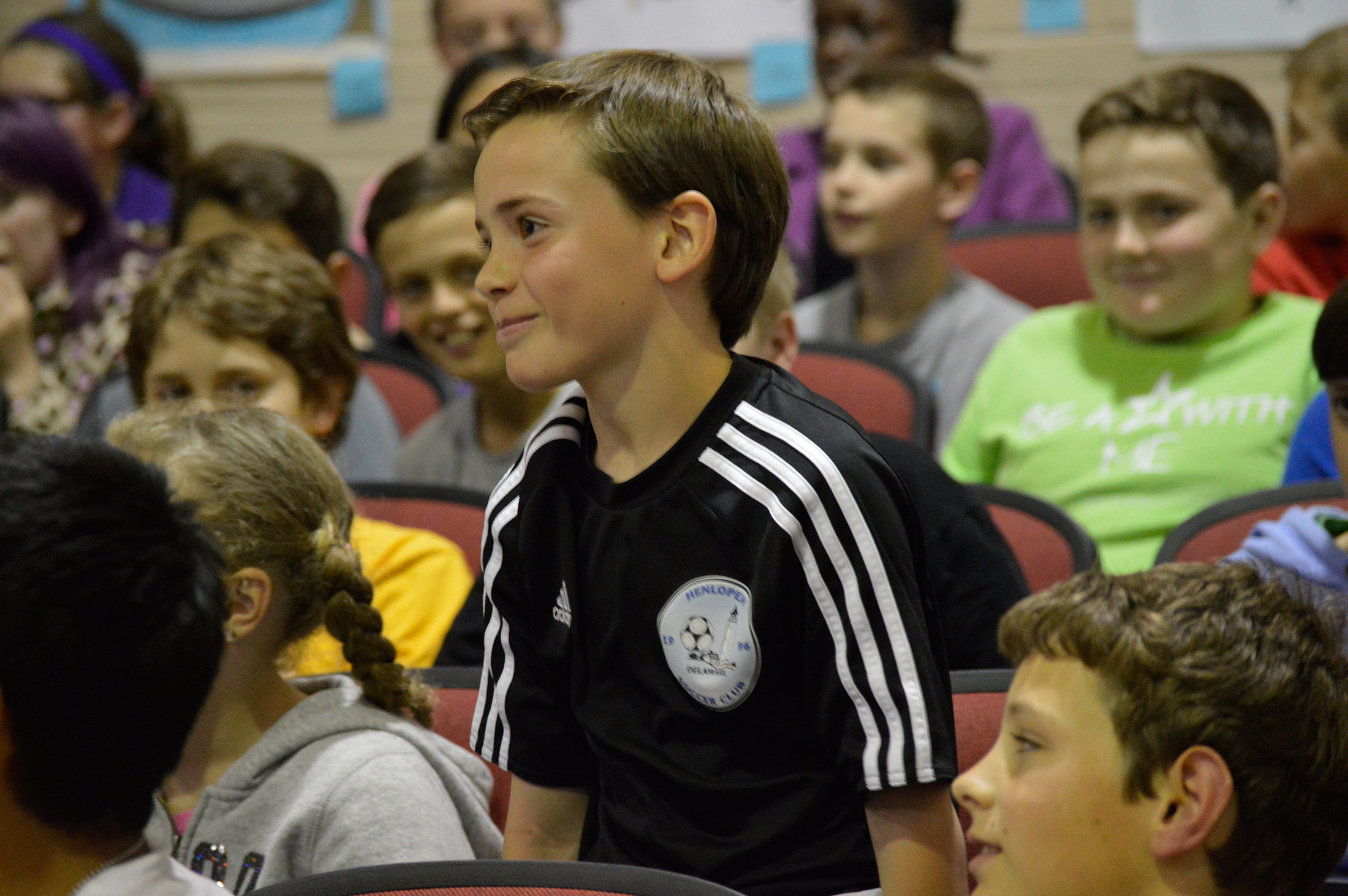 Nathanael stands among his peers in the fifth grade at Milton Elementary during the assembly to unveil "Beebe's Big Birthday," a children's book which celebrates 100 years of Beebe Healthcare.
Beebe Healthcare is a not-for-profit community healthcare system with a charitable mission to encourage healthy living, prevent illness, and restore optimal health for the people residing, working, or visiting in the communities we serve. It offers services throughout Southern Delaware for residents and visitors, including a 210-licensed-bed hospital, a cancer center, and outpatient facilities providing walk-in care, lab, imaging, and physical rehabilitation services. For more information, please visit us online at Beebe Healthcare.
---