Beebe Healthcare Recognizes Jean Winstead with November 2018 L.O.V.E. Letter Award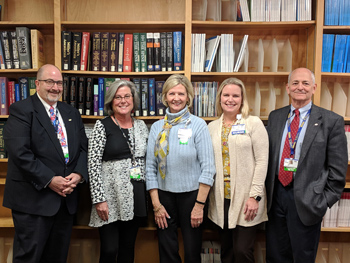 Beebe Healthcare is proud to recognize Jean Winstead, Health Sciences Librarian, as the November 2018 recipient of the Living Our Values Every Day (L.O.V.E.) Award.
All Beebe team members pledge to follow a system of values. As a patient or visitor at Beebe, you may see these value statements posted. We invite you to help us be mindful of our values as we care for you and your family members.
Jean was recognized for going above and beyond for a long-stay patient who was suffering from dementia. After his care team learned that he had previously been an antiques dealer with a lifelong specialty in Chinese and Japanese pottery, Director of Case Management Ellen Tolbert reached out to Jean to see if she could find any books on antique pottery.
"Jean had an even better idea," said Ellen, who wrote Jean's L.O.V.E. Letter. "She researched color pictures of his favorite pottery, included a narrative on each piece, and laminated them. The patient loved the pictures and spent meaningful time talking to the staff about each piece."
Jean demonstrates many of the Beebe values, including acting with passion and love for others to make a difference, achieving amazing accomplishments through exceptional teamwork, and building trusting relationships with compassion and kindness. Great job, Jean!
Beebe Healthcare's L.O.V.E. Letter Recognition Program is similar to an employee of the month program. Team members are encouraged to send L.O.V.E. notes to other team members during the course of the month. A committee then evaluates the L.O.V.E. notes and selects one to receive the monthly L.O.V.E. Letter. Winners are announced in a surprise ceremony in which the committee visits the winner in his or her department and presents the award. Employees selected for the award receive:
Parking space in the parking garage for one month
$100 gift card donated by Fred and Lyndie Hertrich
100 points toward Beebe L.O.V.E. Notes Merchandise
100th Anniversary History Book: Two Men With a Dream: The Story of Beebe Healthcare
Letter of congratulations and personal visit from members of the executive team
Their photo added to the L.O.V.E. Letter wall plaque
Letter to team member's director and department recognition
For more information about Beebe's "Celebrate Excellent Care" program and how you can support Beebe Healthcare, the local non-profit community healthcare system, contact the Foundation at (302) 644-2900.
---