Beebe Healthcare Rehabilitation Services Opens New Location in Rehoboth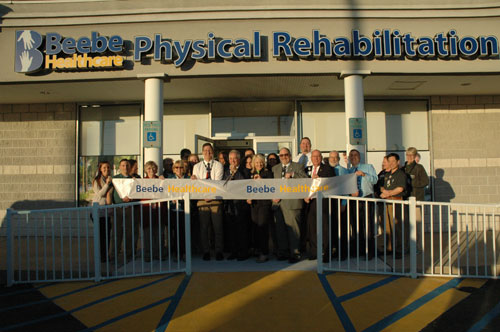 Beebe Physical Rehabilitation Services held its ribbon cutting ceremony and open house on October 24, celebrating its recent opening at Lighthouse Plaza in Rehoboth Beach (formerly housing QVC). The office moved from its previous location at the Bookhammer Outpatient Center on Rt. 24. The new address is 19324 Lighthouse Plaza Blvd. in Rehoboth Beach, directly off Route 1 near Giant Food.
This new location will offer a breadth of physical rehabilitation services, including physical and occupational therapy, and speech language pathology. It will also offer unique sub-services, such as lymphedema management, dry needling, cupping, vestibular therapy, and newly offered pediatric physical therapy.
Speaking at the ceremony, Lieutenant Governor Bethany Hall-Long expressed her excitement and support of Beebe's new and expanded Physical Rehabilitation Center, calling out the need for this service in caring for the aging demographics of the area. Grateful patient Michelle Schaffner also shared words about her positive, encouraging experience with members of Beebe's rehab team following a total knee replacement at Beebe Healthcare.
"This is a really exciting time for Beebe Healthcare. Our new Lighthouse Plaza Physical Rehabilitation Center allows us to provide state of the art Physical Rehabilitation Services to our patients. This includes physical therapy, occupational therapy and speech language pathology. In addition to the physical expansion, we have also introduced pediatric physical therapy services to the scope of services being provided. We are now uniquely positioned to provide physical therapy to everyone in the family," said Joe DeRanieri, DM, MSN, RN, BCECR, executive director of Beebe Orthopaedic Services, Physical Rehabilitation Program and Integrative Health.
LEARN MORE: www.beebehealthcare.org/physical-rehabilitation-services-locations-hours or call (302) 645-3933.
Photo Caption: (shown left to right- front row only): Brianna Eliowitz, Beebe Healthcare Physical Therapist; Andrew Clements, Beebe Healthcare Physical Therapy Assistant; Lesley Nance, President of Beebe Healthcare's Auxiliary; Judy Aliquo, President & CEO of Beebe Medical Foundation; Joseph Wayne, Director of Clinical Operations for Physical Rehab, Beebe Healthcare; Joe DeRanieri, Executive Director of Beebe Healthcare's Orthopaedic Service Line; Lt. Gov. Bethany Hall-Long; Rick Schaffner, Executive Vice-President/COO; Tim Phelps, Manager of Physical Rehab, Beebe Healthcare; Tom Protack, Beebe Medical Foundation; Dan Mapes, Executive Director of Diagnostic & Imaging, Beebe Healthcare; Steve Rhone, VP/CNO, Beebe Healthcare; Don Jung, Beebe Healthcare Physical Therapist; and Amanda Hunter, Beebe Healthcare Speech Language Pathologist.
---