Beebe Healthcare's Tunnell Cancer Center Receives $3,000 Donation from Cast for a Cure Tournament
Beebe Healthcare and Beebe Medical Foundation received a donation in the amount of $3,000 from The Cast for a Cure – 2018 Surf Fishing Tournament to benefit Beebe Healthcare's Tunnell Cancer Center Special Needs Fund. The tournament, hosted by Old Inlet Bait & Tackle, Inc., was held Saturday, April 28, 2018.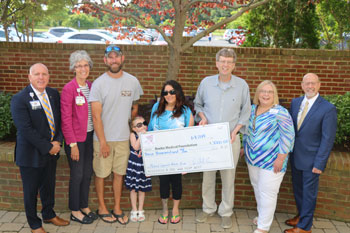 Pictured at the check presentation (left to right): Tom Protack, Diane Barlow, Shaun Smith, Brooke Parker, Brandy Timmons, Clark Evans, Deb Campbell, and Barry Hamp.
For more information about Beebe Medical Foundation or to make a donation, call (302) 644-2900 or go to www.beebemedicalfoundation.org. To learn more about how Beebe is Creating the Next Generation of Care, go to www.nextgenerationofcare.org.
---