Beebe Medical Center Announces Free Mammograms available for those who Qualify October 11 at monthly Breast Health Forum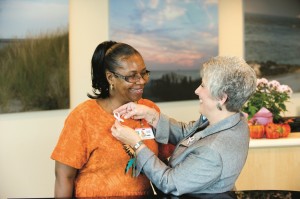 Daisey Mae Wright, a breast cancer survivor and a lay navigator with the Sharing our Stories, Saving our Sisters (SOS²) initiative, meets with coordinator Ann Athas as they discuss where Daisey Mae will reach out to women and encourage them to get their mammograms.
With October being Breast Cancer Awareness Month, Daisey Mae Wright can't help but remember the two friends that she lost to breast cancer.
"They were afraid to get treatment," Daisey Mae says. "They found lumps but they were afraid."
Daisey Mae is a breast cancer survivor and knows what she is talking about. She knows the fear of finding out that you have something you don't want to have. She knows that it's easy to tell yourself that if the doctor doesn't find it, it doesn't exist. But she also knows that there are cancer treatments today that can save your life.
Daisey Mae was the first lay navigator in the Tunnell Cancer Center's Sharing our Stories, Saving our Sisters (SOS²) initiative, which offers free mammograms at monthly Breast Health Forums at Tunnell Cancer Center to those who qualify. The next forum is taking place October 11.
Daisey Mae goes out into communities throughout Sussex County to encourage women to get regular screenings in the form of mammograms so that if they have breast cancer, they can be treated as early as possible.
"We know that the early the treatment is, the better chance you have of surviving," she says. "Many women tell me that they don't have time to get a mammogram because they have to take care of their family. I tell them that they need to think about what their family will do when they are gone."
Daisey Mae works with both Ann Athas, who organizes the lay navigators from her office at Tunnell Cancer Center, and Debbie Campbell, RN, Tunnell's Cancer Screening Nurse Navigator who is focused on making sure that all men and woman are screened for cancers of the breast, cervical, prostate and colon – those cancers for which there are screenings.
Today, Debbie is filling appointments for the upcoming monthly Breast Health Forum on October 11 at Tunnell Cancer Center. The free mammograms are funded with a grant from the Philadelphia Affiliate of the Susan G. Komen for the Cure. The appointment includes the mammogram, a clinical breast exam, and breast education.
Today, Daisey Mae is reminding all women to remember to get their mammograms.
Please call Debbie at (302) 645-3169 to pre-register. The program requires women to be registered. She will set up a time on October 11 for screening and education. Free transportation can be arranged to and from the screening site. Debbie also has information on financial programs for cancer screenings to help people who either do not have insurance or who have insurance that does not cover cancer screenings.
All women 18 years and older should have a clinical breast exam, and all women 40 years and older should have a yearly mammogram. Beebe Medical Center has a comprehensive cancer program that includes the outpatient services at Tunnell Cancer Center, and at the hospital where surgical and nonsurgical procedures are performed.
Last year, Beebe Medical Center opened its Breast Health Center at the Bookhammer Outpatient Center on Route 24 in Rehoboth Beach. It is the only facility in the region devoted to breast care, diagnosis and treatment
---