Beebe Medical Center Welcomes First-Year Students to the Margaret H. Rollins School of Nursing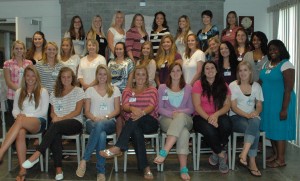 First-year students are: Top Row: Meryha Michels, Samantha Halla, Alina Villarreal, Tatiana Richardson, Leah Gardner, Brandi Romano, Sarah Lowe, Katrina Sellers, 2nd Row: Amber Shetzler, Jennifer Byler, Masie Moloy Thomasina Roe, Christine Powers, Ashley Willey, Alexa Colegrove, Jillian Gamble, Jill Petrone, Candace Conaway, Meghan Colegrove, Jessie Simpson, Michelle Gray, Kendra Cartwright. 1st Row: Whitney Mott-Lynn, Megan Shockley, Chelsey Webb, Jenna Wilgus, Danielle LeGates, Nikki Willoughby, and Alyssa Edwards.
The 2012 fall semester recently kicked off with festivities at the Margaret H. Rollins School of Nursing at Beebe Medical Center with an orientation for 30, first-year students.
The students got a chance to meet faculty members and senior students, as well as school supporters, at the orientation luncheon. Several local businesses, universities and Beebe Medical Center employees made the new students feel at home with gifts in their welcome bags. Those who participated were:
• Beebe Medical Center's Population Health Department donated first aid kits, pens/marker combo, sunscreen and change purses.
• University of Delaware contributed white boards with markers and book bags.
• Wilmington University contributed pens, schedules and other useful items.
• King's Ice Cream contributed gift certificates.
• Café Azafran contributed bags of coffee with handwritten, "Good Luck" messages.
• Surf Bagel donated $5 gift cards.
---