Beebe Medical Center's Tunnell Cancer Center Presents Monthly Breast Health Forum on Valentine's Day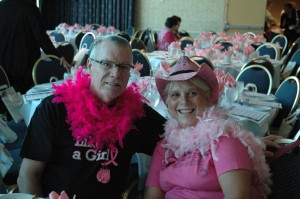 Roger and Andrea Hanna are seen here attending the Sharing our Story, Saving our Sisters (SOS2) evening event a few months ago that celebrated breast cancer survivors. SOS2 is a program administered by Tunnell Cancer Center and funded by the Susan G. Komen for the Cure Philadelphia Affiliate.
Roger and Andrea Hanna of Ocean View know that they would not be celebrating Valentine's Day together if it weren't for mammography.
"If I had been afraid to say something, or hadn't insisted on having a mammogram, I honestly believe I wouldn't be here today," says Andrea, a two-time survivor of breast cancer.
Andrea is a volunteer breast cancer lay navigator at Beebe Medical Center's Tunnell Cancer Center and regularly goes out into the community to urge women to be their own be their own health advocates and to get their annual mammograms.
"And if you can't afford a mammogram, or treatment, there is help," she emphasizes.
She reminds women of the free breast screening opportunities available at Tunnell Cancer Center through the Sharing our Story, Saving our Sisters (SOS2) program administered by Tunnell. A monthly Breast Health Forum with free mammograms for those who qualify will take place On Valentine's Day, Thursday, February 14, from 5 p.m. to 7:30 pm at Tunnell Cancer Center on Route 24 in Rehoboth Beach. Pre-registration is required. To register, please call (302) 645-3169. Free transportation can be arranged to and from the screening site. This breast health program is funded with a grant from the Philadelphia Affiliate of the Susan G. Komen for the Cure.
Every woman who schedules a mammogram and attends the Breast Health Forum on Valentine's Day will receive a "sweet treat." Attendees also will be able to participate in a free drawing for a "pink pouch" of beauty products.
Andrea was 45 years old the first time she was diagnosed with breast cancer. Because there is breast cancer in her family, she was careful to do her own breast exams. She found a lump six months after having a mammogram. Because of what she felt, she wanted another mammogram right away to confirm or disprove her fear.
"I had to insist to get another mammogram," she recalls. "It was a big deal because it had only been six months since the last one and the insurance wasn't going to pay for another."
But she did have the mammogram and that mammogram revealed an abnormality. A biopsy proved that she had a very aggressive form of breast cancer. Surgery later confirmed that it had begun to spread. Her treatments were long and tiresome but she emerged cancer free.
She reconnected with Roger shortly after she had recovered from the treatments and just before she was to run in a 2002 marathon to celebrate her first year as a breast cancer survivor. He had been her high school sweetheart, but they had lost touch. Quite by chance, they found each other on the Internet 30 years after high school.
"He was a long distance runner in school so he helped me train for the marathon," she recalled. She successfully completed the race and has been with Roger ever since.
Twelve years later, in 2012, she was diagnosed through a mammogram with another form of breast cancer.
"It wasn't as devastating the second time," she said. "Maybe because it was found early and wasn't as aggressive as before, but definitely because of the support I had from Roger. He is the love of my life. He is my soul mate."
Roger and Andrea enjoy each day together. Their favorite thing to do is to be out in nature, walking, hiking, kayaking, and observing the birds and wildlife that make the Delaware Inland Bays their home. For Valentine's Day, Andrea said they probably will kayak, if the weather is warm enough.
"We've got lots of winter gear," she says!
---