Beebe Medical Group and Beebe Healthcare Welcome New Internal Medicine Physician Odette Evangelista, MD, to Beebe Primary Care – Georgetown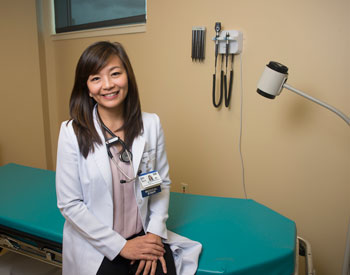 Beebe Medical Group and Beebe Healthcare are pleased to welcome new primary care physician Odette Evangelista, MD, to its Beebe Family Practice – Georgetown office, located at 2165 Biden Avenue, Suite 101, in the Georgetown Health Campus (near the intersections of Route 113 and Routes 18/404).
Board certified in Internal Medicine, Dr. Evangelista will be accepting new patients who are 18 years of age or older as she will focus her practice on adult medicine. The Georgetown practice also includes family practice physician Lisa Bartels, MD. For more information, or to make an appointment with Dr. Evangelista, please call (302) 856-9596.
Dr. Evangelista graduated from the College of Medicine at Saint Louis University, Philippines and completed her Internal Medicine residency at the Mt. Sinai School of Medicine in New York and at Jersey City Medical Center in New Jersey. Prior to joining Beebe Medical Group and Beebe Healthcare, Dr. Evangelista worked as an attending physician at Lofland Life Care Center and at Seaford Center Genesis, both in Seaford, Delaware. For the past three years, she has worked as an internist at Seaford Internal Medicine.
Beebe Medical Group, the employed physician entity under Beebe Healthcare, is currently comprised of 18 medical specialties in 25 locations throughout southern Delaware, with more than 101 medical providers and 151 support staff.
Beebe Medical Group providers include the specialties of audiology, dermatology, endocrinology, gastroenterology, infectious diseases and travel medicine, otolaryngology (ENT), pulmonary & sleep disorders, urology, vascular surgery, surgical oncology, cardiac surgery, internal medicine and family practice. Hospital-based providers include: the Hospitalist division and its nurse practitioners; the Observation Unit nurse practitioners; the neonatal nurse practitioners with the Women's Health Department; and Dr. Abraham Scheer, the Board-Certified neurologist who oversees Beebe's accredited Stroke Center. Beebe Medical Group also staffs Walk-In centers located in Millville, Millsboro and Georgetown, as well as a weekend Walk-In in Lewes.
Beebe Healthcare is a not-for-profit community healthcare system with a charitable mission to encourage healthy living, prevent illness, and restore optimal health for the people residing, working, or visiting in the communities we serve. It offers services throughout Southern Delaware for residents and visitors, including a 210-licensed-bed hospital, a cancer center, and outpatient facilities providing walk-in care, lab, imaging, and physical rehabilitation services. For more information, please visit us online at www.beebehealthcare.org.
---