Beebe Medical Group Welcomes Aimee Lucente, NP, and Kelly Yudt, PA
Image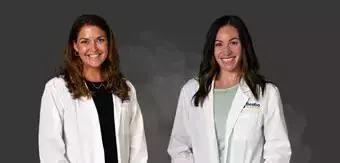 Beebe Healthcare is pleased to announce the appointment of new care providers in two of its primary care practices in Lewes. The healthcare system is continuously expanding primary care resources across Sussex County as the local population grows and the need for family healthcare services increases with it.
Aimee Lucente, NP, is a nurse practitioner who has joined Beebe Primary Care Lewes. She specializes in family medicine, addressing health and wellness, preventive care, acute illnesses, and chronic disease conditions requiring long-term care, for both adolescents and adults.
Lucente is certified by the American Academy of Nurse Practitioners and the American Heart Association and is licensed to practice in both Delaware and Pennsylvania. Prior to joining Beebe Healthcare, Lucente worked at the University of Pennsylvania Health System in Philadelphia as a charge nurse in the post anesthesia care unit. Earlier in her career, she worked as a registered nurse at ChristianaCare Health System. Lucente is a graduate of Wilkes University, where she earned a master's degree in the science of nursing, and the University of Delaware, where she earned a Bachelor of Science in nursing.
"I am passionate about my work and the opportunity I have each day to give people information and resources to take ownership of their own health," Lucente said.
Kelly Yudt, PA-C, is a physician assistant who sees patients at Cape Henlopen Primary Care. She cares for both children and adults, with focus on acute and chronic illness, and the promotion of healthy lifestyles. Prior to joining Beebe Healthcare, Yudt served as a physician assistant at Mid-Atlantic Family Practice in Lewes, and before that, an orthopaedic spine surgical physician assistant at the Southeastern Spine Institute in South Carolina. She earned certification from the National Commission on Certification of Physician Assistants after completing both her Master of Science and Bachelor of Science and health degrees at Philadelphia University.
"I am committed to knowing my patients on a personal level and guiding them toward living healthier, happier lives," Yudt said. "I advocate for a holistic approach in my practice, tending to my patients' physical, mental and emotional health."
Both Lucente and Yudt are employed by Beebe Medical Group, which includes 20-plus specialty offices in more than 40 office locations throughout Sussex County. When patients see providers that are within the Beebe Medical Group, they enjoy the experience of seamless electronic medical correspondence between office visits, outpatient facilities and the hospital. Practices include the specialties of: Cardiothoracic Surgery, Dermatology, Endocrinology, Family Medicine, Gastroenterology, General and Bariatric Surgery, Hospital Medicine, Infectious Diseases and Travel Medicine, Internal Medicine, Pediatric Neurology, Pulmonary & Sleep Disorders, Surgical Oncology, Urology, and Women's Healthcare. Four Walk-in Care Centers serve the community in Rehoboth Beach, Georgetown, Millsboro, and Millville from 9 a.m. to 7 p.m. daily.
---