Beebe Team Members Complete Integrated Care Management Training
Beebe Healthcare and Beebe Home Care Services are proud to announce that two Home Care team members – Michelle Dennis, RN, Clinical Team Leader, and Rob Uebele, Doctor of Physical Therapy – recently participated in the Integrated Care Management (ICM) Transitions of Care Program training course offered by Sutter Health and the Sutter Center for Integrated Care. Completion of this course consisted of a combination of classroom lecture and web-based self-learning. Passage of the course exam has certified Michelle and Rob to train all Beebe Home Care clinical staff in the principles of this enhanced transitional care program.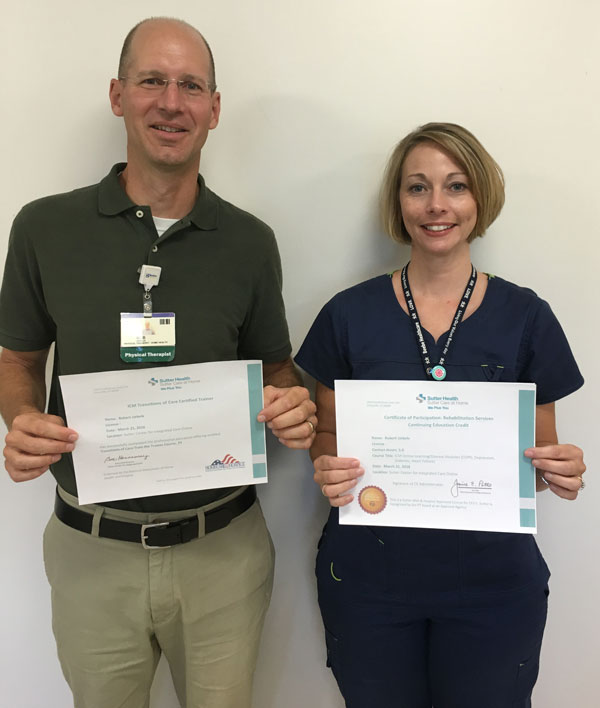 ICM's Transition of Care Program is a patient-centered, evidence-based care delivery model promoting care coordination among healthcare providers and supporting patients across all providers, settings, and time. By utilizing the tools and skills outlined in this model, all clinical staff will now follow a standardized approach to chronic disease management care and education in the home care setting. Utilizing the core principles of this care model will better enable staff to:
Collaborate more effectively with other members of the interdisciplinary care team,
Identify "high risk" patients earlier in the transition of care process to reduce hospital readmission,
Enhance patient engagement in self-management of their chronic illnesses,
Screen for risks of future medication mismanagement,
Improve patients' overall health literacy, and
Enhance patient satisfaction with their health care experiences.
Following this model will enable Beebe Home Care to continue to provide the excellent home care our community has grown accustomed to while also achieving the Triple Aim of health care reform: achieving better health, delivering better care, and lowering costs for individuals and providers.
Shown are Rob Uebele, Doctor of Physical Therapy and Michelle Dennis, RN, Clinical Team Leader.
---