Creating the Next Generation of Cardiac & Vascular Care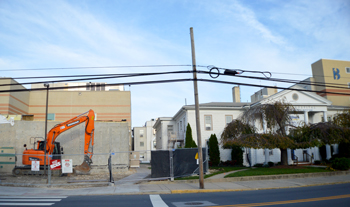 Beebe Healthcare is working to build the future of cardiac and vascular surgery here in Lewes.
Motorists and pedestrians may have noticed the construction happening in front of the Medical Center in downtown Lewes. This construction is to build a new hybrid operating room and a new electrophysiology (EP) labs.
The current project, funded by generous donations from the community through Beebe Medical Foundation, will utilize existing space for a new 4,302-square-foot cardiac and vascular treatment area.
"This project will create a 1,434-square-foot space for a new hybrid operating room," said Angel Aguilar, Director of Facilities at Beebe.
The project will also make room for the construction of a third cardiac cath and electrophysiology lab in a larger 2,565-square-foot space.
"It will also create additional 1,434-square-foot space on the first floor for an EP lab, as well as future space for cardiac and vascular lab expansion," Aguilar said.
The hybrid operating room will be the first of its kind for Beebe Healthcare.
"It is an exciting process that brings together our vascular surgeons, interventional cardiologists, radiologists, and support teams to build an operating room that will provide the latest in advanced imaging technology for vascular surgeons and allows patients to undergo both open surgery and endovascular or minimally invasive procedures in the same room," said Rick Schaffner, Executive Vice President, Beebe Healthcare.
This surgical theatre will offer the complex imaging equipment allows surgeons to have real-time access and visibility of peripheral arteries within the body, while they are working to repair or bypass blockages.
Hybrid operating rooms are complex working environments where a team of surgeons, interventionalists, nurses, anesthesiologists, and radiology technicians work seamlessly together.
The vascular team at Beebe is working to create this surgical theatre space from the ground up. Having the surgical team involved in the design is one way Beebe is working to create the space to fit the team, instead of the other way around, Schaffner said.
Vascular surgeons Dr. Sean Ryan, Dr. Carlos Neves, and Dr. Kevin Caldwell have all trained in hybrid operating rooms and are excited to bring this new space to the community. They provide expert care, close to home, for those living, working, and visiting Sussex County.
To support this project by making a gift, call the Beebe Medical Foundation at (302) 644-2900 or donate online at www.beebemedicalfoundation.org.
Image: Motorists and pedestrians may notice construction at the front of Beebe Healthcare's Medical Center in downtown Lewes. This project will bring more than 4,000 square feet of new cardiac and vascular treatment space for physicians and patients.
---