Delaware Anesthesia Associates Donates $250,000 to Beebe Healthcare's 'I Believe in Beebe' Campaign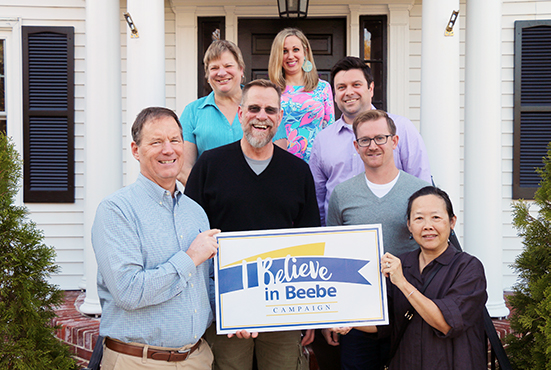 Physicians from Delaware Anesthesia Associates (DAA) recently gathered at the Beebe Medical Foundation to celebrate the group's $250,000 pledge to Beebe Healthcare's "I Believe in Beebe" campaign.
DAA will be naming an operating room, the post-anesthesia care unit, and the 4th Floor Staff Lounge at Beebe's new Specialty Surgical Hospital on Route 24 near Rehoboth Beach. In attendance from DAA were Drs. Stephen and Kelly Fanto, Dr. Robert W. Wiltshire, Drs. Stephani Allison and Judith Gorra, Dr. Michael and Heather Ingerski, Dr. Yin Lim, Dr. William Doherty, and Dr. Jillian and Joseph Dashiell.
"We are very fortunate to be part of such an experienced and talented healthcare team at Beebe," said Dr. Stephen Fanto. "Every day we have the great pleasure of working alongside of highly skilled surgeons, nurses, and technologists to provide our patients with state-of-the-art, compassionate care."
With their gift, all of the DAA physician partners have joined the 1916 Leadership Giving Club and will celebrate Beebe's founding year by donating $1,916 annually to support the hospital, said Judy Aliquo, CFRE, President & CEO of Beebe Medical Foundation.
"We are so grateful to the Delaware Anesthesia Associates for their loyal support of the Beebe," Ms. Aliquo said. "This group has supported Beebe for over 25 years and made their first gift in 1993. We are honored to say thank you again in person for their largest gift ever to Beebe Healthcare. We are also very honored to have DAA's name proudly displayed on the donor walls at all three of Beebe's new facilities."
Beebe Healthcare's Interim CEO, Executive Vice President and Chief Operating Officer, Rick Schaffner, thanked DAA by saying, "Beebe could not have a more qualified and talented team of anesthesiologists to serve our patients. You are dedicated, compassionate and experts in your field. Because you touch so many of our patients, you make a tremendous difference in the care we provide to our community."
"I Believe in Beebe" is a historic campaign supporting the largest expansion in Beebe Healthcare's 103-year history. Now in the public phase, the staff of Beebe Medical Foundation invites everyone to reach out to support Beebe Healthcare, Sussex County's not-for-profit, community healthcare system. Gifts from physician partners, like this one given by Delaware Anesthesia Associates, truly make a difference and help Beebe provide the state-of-the-art facilities to care for our patients.
As a community-based, not-for-profit healthcare system, Beebe Healthcare depends on the generous support of the community. All gifts to Beebe are tax-deductible and are channeled through Beebe Medical Foundation. To learn more about making a gift please contact the Beebe Medical Foundation at (302) 644-2900 or [email protected].
Beebe Healthcare is a not-for-profit community healthcare system with a charitable mission to encourage healthy living, prevent illness, and restore optimal health for the people who live in, work in, and visit the communities we serve. Beebe Healthcare has three campuses: the Margaret H. Rollins Lewes Campus, which houses the medical center; the Rehoboth Beach Health Campus; and coming in 2020, the South Coastal Health Campus. Beebe Healthcare offers primary care as well as specialized services in the areas of cardiac and vascular, general surgery, robotic surgery, cancer treatment, women's health, and orthopaedics. Beebe also offers walk-in care, lab, imaging and physical rehabilitation services at several locations throughout Sussex County, in addition to a Home Care program and an adult activities center.
To find out how Beebe Healthcare is Creating the Next Generation of Care for the community, go to www.nextgenerationofcare.org.
Caption: Pictured, left to right: Dr. Stephen Fanto, Dr. Stephani Allison, Dr. Robert Wiltshire, Dr. Jillian Dashiell, Dr. Michael Ingerski, Dr. William Doherty, and Dr. Yin Lim.
---