Jan Paul of Rehoboth Beach Wins 100th Anniversary Beebe Baby Prize Pack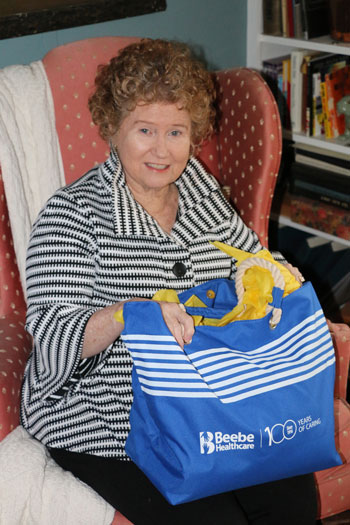 Jan Paul of Rehoboth Beach was the lucky winner of Beebe's Healthcare's 100th Anniversary Beebe Baby drawing.
Paul, who was born at Beebe, making her a "Beebe Baby," was presented with a Beebe beach bag full of Beebe 100th Anniversary prizes, including a beach towel, key chain, holiday ornament, tumbler, cookbook, children's book, and more. The drawing was part of Beebe's 100th Anniversary events. Everyone who signed up as a Beebe baby online was entered to win.
Paul has spent most of her life in Lewes and Rehoboth Beach areas. During one stay at Beebe as a child, Paul recalls an orderly who used to sing to the children to calm them down. She also recalls that getting a back rub each night was part of the hospital stay package. She said she proudly wears her "Beebe baby" pin often.
For more information about Beebe Healthcare or to purchase commemorative 100th Anniversary items, go to www.beebemedicalfoundation.org.
---