Jean & Joan Cancer Fund donates $32,000 to Beebe Healthcare in support of Tunnell Cancer Patients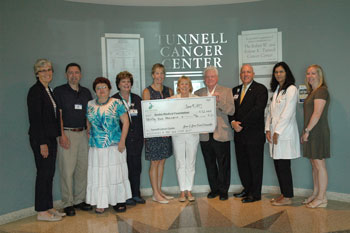 The Jean & Joan Cancer Fund donated $32,000 to Beebe Healthcare's Tunnell Cancer Center. The funds will go toward the purchase of a new Tunnell Cancer Center transport van. The money was raised at last fall's 17th Annual Jean & Joan Cancer Fund Golf Tournament at the Kings Creek Country Club. All funds garnered from this year's tournament will go towards transport vans as well. Four vans have been purchased thus far, increasing the safety and convenience of cancer patients traveling to the Tunnell Cancer Center for their care.
Beebe Medical Foundation's President and CEO Judy Aliquo said, "The Jean & Joan Cancer Fund has made an incredible impact over the course of the years to broaden Beebe Healthcare's ability to provide service and care to local cancer patients and their families. We are extremely grateful for the continued support and generosity of the fund and to all those who contribute to it. We are excited about the upcoming September tournament and encourage those interested to sign up today."
Since its inception in 1999, the Jean & Joan Cancer Fund has raised close to $500,000 for cancer patient support at the Tunnell Cancer Center on Rt. 24 in Rehoboth Beach. It was created by James Martin, Jr. in memory of his wife, Joan Martin, and her friend Jean James, as well as others who have passed from cancer.
"The Jean and Joan Fund is dedicated to supporting the needs of Sussex County cancer patients as they go through their treatments. This annual event is supported by local businesses and individuals, helping to make a difference in cancer patients' lives while going through a very difficult time. We are very appreciative of the ongoing support received from the local community," said Vicki Tull, current Jean & Joan Tournament Chairperson.
The 18th Annual Tournament will be held at Kings Creek Country Club on Monday, September 25, 2017 to benefit patient services at Beebe Healthcare's Tunnell Cancer Center. Tournament registration forms are accepted via mail, online, fax, or calling the Beebe Medical Foundation at (302)644-2900.
Photo Caption: (Shown left to right) Diane Barlow, Beebe Medical Foundation Gift Planning Officer; Don Hoosack, Tunnell Cancer Center van driver; Carmen Pisc, MD; Kathy Marks, RN, OCN; Vicki Tull, current Chairperson of Jean & Joan Cancer Fund; Judy Aliquo, President & CEO of Beebe Medical Foundation; James J. Martin, Jr., past Chairman and Founder of Jean & Joan Cancer Fund; Tom Protack, Beebe Medical Foundation Vice President of Development; Srujitha Murukutla, MD; and Amy Perkins, Beebe Medical Foundation Event Coordinator.
Beebe Healthcare is a not-for-profit community healthcare system with a charitable mission to encourage healthy living, prevent illness, and restore optimal health for the people residing, working, or visiting in the communities we serve. It offers services throughout Southern Delaware for residents and visitors, including a 210-licensed-bed hospital, a cancer treatment center, home care services, and outpatient facilities providing walk-in care, lab, imaging, and physical rehabilitation services. 
---