Mom: Zachary Gained Independence, Knowledge at Asthma Camp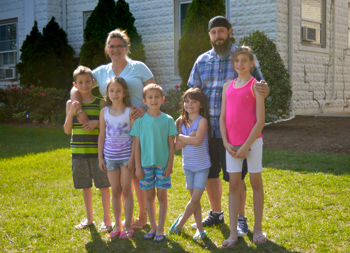 When Zachary Watson was three years old, he was diagnosed with asthma.
"I coughed a lot and my throat and chest got really sore," Zachary, now 10, says of his asthma attacks. "I remember feeling like I couldn't stop coughing even though it hurt."
Zach's parents, Ashley and Jeremy Watson of Dover, recall some scary times when Zachary was young. "He would get croup a lot and so he would be coughing pretty badly. He also was prone to getting ear infections and had seasonal allergies, both of which also contributed to his asthma," said Ashley. "After he was diagnosed, he started taking medications and using inhaler treatments to ease his symptoms."
Zachary is one of five Watson children – four of whom have asthma.
In the U.S., the Centers for Disease Control and Prevention (CDC) estimates that more than 6.2 million children have asthma. In 2013, there were approximately 1.6 million emergency room visits nationwide due to asthma-related symptoms.
The Asthma and Allergy Foundation of America (AAFA) designates May as National Asthma and Allergy Awareness Month. It's a peak season for asthma and allergy sufferers, and a perfect time to educate about these diseases.
"I would tell any parents who have concerns that their child might have asthma to get it checked out," Ashley said. "The earlier a child is diagnosed, the quicker you can start treatment."
Common symptoms of asthma include wheezing, chest tightness, shortness of breath, and coughing at night or early in the morning.
Last year, Zachary's school nurse at Campus Community in Dover, gave him information about Asthma Camp, an overnight camp sponsored by the American Lung Association in Delaware in partnership with Beebe Healthcare. The camp is held each year at Children's Beach House in Lewes.
"Asthma Camp is an opportunity for children to come to a safe place where there are medical personnel on duty to help with medications," said Nicole Goldsboro, Program Specialist/Master Trainer- Open Airways for Schools for the American Lung Association in Delaware. "For some children, this is the first time they have been able to attend a camp because of their asthma or other medical diagnoses."
The American Lung Association in Delaware offers online training for parents to better understand asthma symptoms and how to help children better manage the condition, said Goldsboro. For more information on training, go to www.lung.org/asthmabasics.
Campers Needed for 2017
Zachary attended the camp last year and is excited to attend again this year – this time with his sister Josephine, 7.
"My favorite part was playing in the sand on the beach and in the water," Zachary said. "We played Marco Polo and our teachers would play catch with us."
In addition to games and activities, the children at Asthma Camp also learn a great deal about their condition.
"It was amazing to us that when Zachary came home from the camp, he knew so much more about asthma, about his medications, and he really showed us the right way to be doing everything," said Jeremy, Zach's father.
"The camp really helped Zachary gain this independent view of asthma. It gave him the tools he needed to manage his medications and feel confident in himself," Ashley said.
As parents of multiple children battling asthma, the Watsons were concerned before sending Zachary to camp. "Right before we were going to let him go, Zachary was diagnosed with Crohn's Disease. It really stopped us in our tracks and made us question whether he should go," Ashley said.
"But then we talked to the camp teachers and medical team and they really supported us. Knowing they were so kind and could take care of Zachary while he was there made the difference and we are so glad he went to camp," Jeremy said.
This year's Asthma Camp will take place July 8-9, 2017, at Children's Beach House in Lewes. Respiratory therapists from Beebe Healthcare and the Delaware Technical Community College respiratory therapy program participate in the camp by providing education and medical support.
"The American Lung Association in Delaware truly appreciates the work and support from staff at Beebe Healthcare and the Delaware Technical Community College," said Deborah P. Brown, President and CEO, American Lung Association of the Mid-Atlantic. "Having them on site creates a safe and healthy environment for the kids who learn lifesaving skills, while enjoying some summer Asthma Camp fun."
Children between the ages of 7 and 11 with moderate to severe asthma are eligible to attend Asthma Camp. The cost for the camp is $50 and there are scholarships available through the American Lung Association in Delaware for those in need of financial assistance. Camp enrollment is completed on a first-come, first-serve basis and is limited to 20 campers. If you have or know a child between 7 and 11 years old with asthma, who would be interested in attending the camp, or if you would like additional information, contact Sara Brown at [email protected] or at (302) 645-3300, ext. 5764 or you can register at www.deasathma.org.
---