Tunnell Cancer Center to Host 14th Annual Miracle Mile in Rehoboth Beach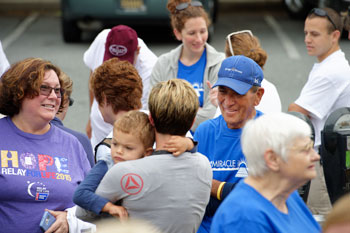 Fourteen years ago, Arline Simpson and a group of cancer survivors took to the Boardwalk in Rehoboth Beach to "Light the Way." Arline, a breast cancer survivor, said the Miracle Mile walk was started to celebrate the solidarity that cancer survivors feel. "It is so important to be there for one another," Arline said. "We are all in this together. Even if you personally don't have cancer, you likely know someone who has been affected by cancer. This walk is about celebrating the survivors, however it is also about thanking and honoring the caregivers because without their love and support, we could never get through it. I'd also like to specially thank the doctors and nurses at Beebe Healthcare, specifically at Tunnell Cancer Center; they were there every step of the way during my treatment, providing their support, care, compassion and professional dedication."
The Miracle Mile has grown over the past 14 years, but it will be again held on the Rehoboth Boardwalk this year. Join Arline, cancer survivors, and caregivers on Saturday, June 3, to celebrate your "grit and grace" during the one-mile walk, which honors National Cancer Survivor Day.
We also encourage you to invite those who have supported you on your cancer survivorship journey. Participants will gather and register at All Saints' Church on Olive Avenue, and from there proceed to a walk along the boardwalk. Participants are invited to return to All Saints' following the walk for a complimentary, hot breakfast and fellowship.
More than 100 people take part in the annual event, which brings together cancer survivors, caregivers, relatives and friends. Registration begins at 7:30 a.m. T-shirts will be given to survivors. The walk begins promptly at 8 a.m. You can also register by calling Tunnell Cancer Center at (302) 645-3100, Ext. 2718.
Photo Caption: Past year Miracle Mile participants gather in camaraderie and support.
About Tunnell Cancer Center
Beebe Healthcare established Tunnell Cancer Center in 1995. It has received the Commission on Cancer's highest accreditation with commendation as a comprehensive community cancer center. Its clinical specialties are medical oncology/hematology and radiation oncology. It also offers a multidisciplinary approach for planning all cancer treatment. Nearly 200 patients visit the center each day.
Beebe Healthcare is a not-for-profit community healthcare system with a charitable mission to encourage healthy living, prevent illness, and restore optimal health for the people residing, working, or visiting in the communities we serve. It offers services throughout Southern Delaware for residents and visitors, including a 210-licensed-bed hospital, a cancer treatment center, and outpatient facilities providing walk-in care, lab, imaging, and physical rehabilitation services. For more information, please visit us online at Beebe Healthcare.
---