Specialty Surgical Hospital - Rehoboth Health Campus
The facility features four operating rooms, 18 bays for pre- and post-operative care, and 24 private, short-stay inpatient rooms. It also houses imaging, laboratory, and pharmacy services, as well as a new location for our Rehoboth Walk-In Care Center (opening in June)*.
---
Beebe's Specialty Surgical Hospital
For more than a century, Beebe has been singularly focused on the health and well-being of our community, and we are proud to deliver on this commitment once again with the opening of our new Specialty Surgical Hospital on our Rehoboth Health Campus. This new and state-of-the-art hospital is purpose-built to deliver the best short-stay surgical care and patient experience available in Sussex County.
When visiting, patients and their families can expect an amenity-packed space that is warm and welcoming, and adorned with soothing color palettes and artwork— an experience informed and guided by Beebe's Patient Family Advisory Council. Our surgeons will use the latest technologies in robotic and minimally invasive surgery to streamline and optimize care for every patient treated, with a focus on bariatric, orthopaedic, and breast procedures.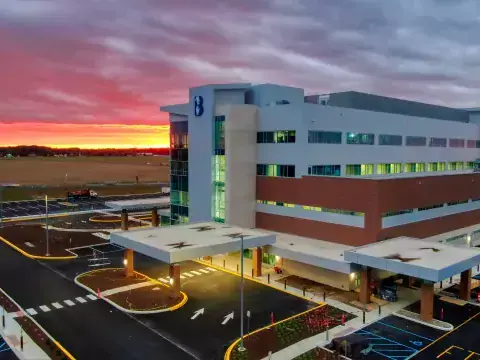 Location / Parking
The Rehoboth Health Campus is located at 19161 Healthy Way, Rehoboth Beach, DE 19971. Visitors and patients alike can park in the large parking lot surrounding the building. All visitors can enter through the main entrance off of Warrington Road.
---
Contact Information
For information about the Specialty Surgical Hospital, please call 302-645-3300. If you are experiencing a medical emergency, always dial 911.
---
Visitor Guidelines
Go to our Visitor Information page for more information regarding guidelines for visitors.
---
Dining
The Specialty Surgical Hospital Cafe offers including breakfast and lunch, grab/go, salad bar, snacks, desserts,  hot and cold beverages.
Hours: Monday - Thursday 8 a.m. - 3 p.m, Fridays 8 a.m. - 1:30 p.m.
---
Gift Shop
The Gift Shop at the Specialty Surgical Hospital offers a variety of traditional and unique gifts for both patients and their families when they visit. A variety of special and heart-warming items are for sale on the first floor of the medical center. Unique items reflective of the location of the medical center on the coastline in southern Delaware are also available as are small sundry items, magazines, and greeting cards. The Gift Shop places emphasis on items that are environmentally friendly, made in the USA, or fair trade items.
The Gift Shop is staffed by volunteers from the Beebe Auxiliary, which was founded in 1936. The sole purpose of the Auxiliary is to raise philanthropic support for Beebe. Since its founding, the Auxiliary has contributed more than $1.75 million to various medical building programs and projects.
Hours: Monday - Friday, 11 a.m. to 3 p.m.
---
Why This Hospital Matters to Sussex County
We understand that Sussex County not only expects the best when it comes to surgical care—it deserves it. Through this new hospital, we are proud to signal a rapid evolution and new standard of care for our community. Our use of the latest medical technologies and care protocols make it possible for patients to receive safe, high quality care with shorter inpatient stays (or even same-day discharge) and faster recovery times so they can get back to optimal health.
Specializing in Sussex County means more than just being here. It means taking the necessary steps to truly understand our neighbors' evolving health needs and expectations, and to provide them the services they want and need, close to where they live, work, and visit.
And, as Sussex County grows, so too does Beebe. Research shows that population growth in our county will more than double national averages by 2027. With that growth comes an expected increase in patients that require surgery—with surgical volumes expected to increase by more than 60 percent by 2025. To meet these needs, space dedicated exclusively to surgical care is key, and will help to ensure that Beebe can continue providing our neighbors with the best care and experience for years to come.
Want more information about this hospital? Download our informational flyer.
---
Center for Breast Health
Every Day Care:
The Center for Breast Health is led by a board certified general surgeon, recognized as the preeminent breast surgical oncologist in Delaware. Throughout her career, she has set standards in the field of breast cancer care, while trailblazing pathways to train a new generation of breast surgeons for the future. That leadership, paired with the expertise of a board certified and fellowship-trained breast surgeon and a family nurse practitioner, who specializes in breast cancer prevention and risk evaluation, make the Center one of the best places in the region to turn for comprehensive breast care.
The Center offers:
A full range of preventative care and breast procedures
excisional biopsies
bilateral nipple sparing preventative mastectomies
options for immediate reconstruction
The latest technologies and innovative approaches to surgical care
Specimen radiography
SAVI Scout localization
Wire placement localization
ultrasound-guided technology
Sentinal node biopsy
The care team leverages Enhanced Recovery After Surgery (ERAS) protocols to streamline the discharge process for patients following surgery, in ways that are safe, efficient, and allow for recovery in the comfort of the patient's home.
---
Center for Weight Loss Surgery
Our fellowship-trained bariatric surgeons offer gastric bypass surgery, sleeve gastrectomy, and the duodenal procedure. Regardless of which procedure is determined to be the most appropriate for each patient, our team applies the latest evidence-based medicine and holistic approaches to care that integrate support, behavior therapy, and nutritional counseling – before, during, and following surgery.
Beebe's Center for Weight Loss Surgery is led by an exceptionally experienced surgeon who trained at the Mayo Clinic and has performed more than 2,000 successful weight loss procedures. Under his leadership, the Center is designated as a Metabolic and Bariatric Surgery Accreditation and Quality Improvement Program (MBSQIP). This accreditation recognizes bariatric surgery centers that set national standards for care with quality and safety measures in place to optimize patient outcomes. Providers see patients at their practice in Georgetown and will perform procedures at the Specialty Surgical Hospital.
---
Orthopaedic Surgical Services
The orthopaedic surgeons who practice at Beebe Healthcare have helped put the organization on the map of exceptional places to turn for care. Collectively, they are among the best of the best in the region, highly regarded for their approaches to orthopaedic surgical care. They offer a wide range of procedures, including a full array of joint replacement and spine surgeries, and are part of an interdisciplinary team that includes nurses, rehabilitation specialists, and discharge planning counselors. Together, they guide patients through their journey of care, toward better health and pain-free living.
Healthgrades has consistently named Beebe in the top 10% of hospitals to undergo joint replacement surgery in the United States. Patients participate in an Early Mobility Program, which encourages them to mobilize within hours after surgery—allowing many to be discharged the same or next day. The orthopaedic team also applies Enhanced Recovery After Surgery (ERAS) protocols, proven to expedite post-operative recovery and improve patient outcomes.
---