State-of-the-Art Classroom
Margaret H. Rollins School of Nursing at Beebe Healthcare provides state-of-the-art classroom and laboratory facilities for all levels of academic study. A variety of audiovisual and supplemental teaching aids are available to enhance student learning. High fidelity simulation labs, as well as multi-bed skills labs are incorporated into the curriculum for simulated clinical/patient care experiences and to enhance critical thinking.
The School is also equipped with a large student lounge and ample room for studying. Students are provided with individual tablets upon enrollment, which are utilized in class and clinical. The School of Nursing has wireless capabilities throughout the facility.
---
CLINICAL FACILITIES
Beebe's medical center is a licensed 210-bed, not-for-profit community hospital located in beautiful historic Lewes, a seaside community near Rehoboth Beach, which provides clinical experiences for student nurses at all levels of the curriculum. An expanded Emergency Department and additional 62 beds in 2008 increased the capacity to 210 beds and enhanced Emergency, Critical Care, and Medical-Surgical services. Beebe Healthcare is an ever-changing community-based system offering inpatient, outpatient, emergency, and diagnostic services to meet the needs of today's health-conscious society. Beebe's specialized service lines include comprehensive cardiovascular care, oncology, women's health, and orthopaedics. Cardiac Surgery and Interventional Cardiology were added to Beebe's quality services in 2007.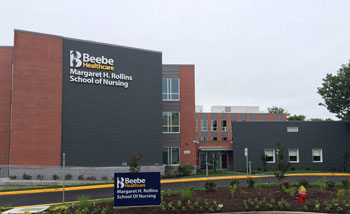 Beebe operates two comprehensive cancer centers and Lab Express, Diagnostic Imaging, and Physical Rehabilitation Services are offered in several locations in Sussex County. Beebe also operates Wound Care and Diabetes Management Services, Home Health Agency, high school–based wellness centers, and walk-in care centers.
Beebe participates in and sponsors many community events annually, including American Cancer Society's Relay for Life, the American Heart Association's Annual Heart Walk, March of Dimes Walk, and Lewes Steps Out for Fitness. The Population Health Department provides cholesterol, glucose, blood pressure, and other free screenings at local CHEER Centers, fire halls, churches, and other community locations. Support groups include Diabetes Support Group, Ostomy Support Group, Parkinson Support Group, and Great Expectations for expecting parents. To supplement care provided by our Medical Staff, our Department of Integrative Health offers relaxation and life enhancement programs to help people cope with stress and improve overall health.
TRANSPORTATION
Students are responsible for providing their own transportation to clincal sites. The School of Nursing does not provide transportation of any type.
LIBRARY
Beebe Healthcare's Health Science Library and The School of Nursing Library are available for student nurses, Medical Staff, and employees. The libraries house current reference books and periodicals. In addition, online resources are available. Students are encouraged to use the services and resources of the libraries to enhance their learning. Library resources and services of area colleges and public libraries also are available for student use.