Boomer Unchained: Accomplishing Your Bucket List Dreams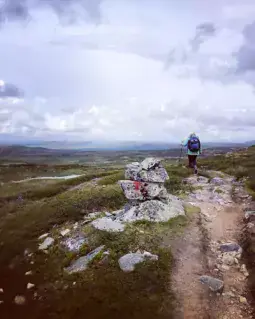 When I was 25 years old, I married a Norwegian who told me about hiking across the Hardangervidda mountain plateau in Norway: How it was a place of rolling mountains, lakes, glaciers and endless skies.  How it is a trip you take over several days, staying at remote and rustic lodges.
Since we only lived in Norway for a few years, I never took that hike. I then ended up back in the United States without the Norwegian. But the mountain plateau haunted me. It lived in my head as a magical place far from civilization. I guess you could call it one of the places to visit on my 'bucket list' of adventures, together with the California redwoods, Bryce Canyon, the Smokey Mountains, Galapagos Islands, Machu Picchu, Prague, and Budapest.
Then, last December, my Norwegian ex-husband died and his family reached out to my sons and to me, inviting us to visit this summer. It was as if they didn't want to lose the connection with my adult sons, both of whom were born in Oslo, or with me, as I had not seen the Norwegian family for many years. My youngest son Lars (41), who remembered how often I had talked about that hike, suggested we do it, and then organized it with my former sister-in-law Irene and brother-in-law Jon Reidar.  They live in a tiny town at the end of a fjord in western Norway, and for them hiking in rugged terrain is as easy as it is for me to walk on a trail in Cape Henlopen State Park.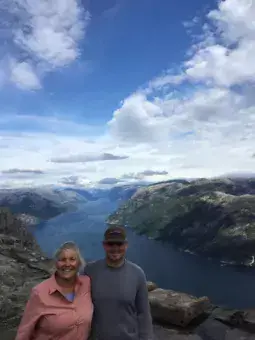 For months, I've looked forward to that hike with trepidation. After all, I am 69, and not in the shape I used to be. I have been working out pretty regularly, but I broke my ankle in 2017 and wondered if it would be strong enough to walk miles and miles each day over rough terrain.  In retrospect, I had no idea how much 'rough terrain' there is in the Hardangervidda, upon which shrinking glaciers have left mounds of rocks, big and small, everywhere.
Arriving in Norway
My Norwegian nephew Reidar met me at the airport in Stavanager with Lars, who arrived before I did. By the next day, Reidar had me in training. The three of us hiked three miles up to an elevation of 1,900 feet to a rock outcropping called "Preikestolen" (The Pulpit Rock). The view of the Lysefjorden below was awe inspiring. It was as if I were in a painting. Of course, the roundtrip hike took us two hours longer than Reidar anticipated due to my lack of skills at maneuvering boulders and slippery rocks. Consequently, we missed our ferry and had to create a plan B to get to the island where we were supposed to be spending a few days with his parents, Irene and Jon Reidar.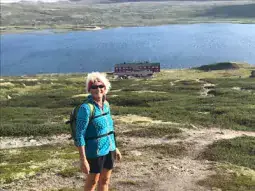 "Are you ok?" Reidar asked me more than once. I didn't want to tell him about the screaming pain in my left thigh from climbing up to that precipice. I popped a naproxen and a Tylenol instead, and said I felt great. I held onto the image of the view of Lysefjorden and prayed the Hardangervidda would be an easier hike.
We made it to the island, thanks to a friend of Reidar's sister who picked us up at the dock where we parked the car, and drove us there in his boat. Boats, I discovered, are as important as cars in the western part of Norway due to its long, deep fjords. Once on the island, we used Jon Reidar's boat to go to the supermarket and to visit Reidar's sister, Aud Hege.
The Hardangervidda hike was to take place a few days later. Jon Reidar watched the weather reports closely as he decided our route and what day we would go.
"You don't want to be up there in bad weather," he said, noting that the plateau was covered in snow until mid-July.  Much of this conversation was in Norwegian, by the way. I do speak brokenly, but understand much more.
"Do you have raingear?" he asked, making sure we had the necessary jackets, pants and covering for our backpacks.
"Are you sure you can go so many miles?" he asked me specifically. I told him what great shape I was in and said I'd been taking barre classes several times a week for more than a year. He didn't know what a barre class was so he looked at me with suspicion. He suggested I take some kind of over-the-counter pain killer with me, just in case, and I assured him I had a 'bag' of naproxen and Tylenol with me. I took two naproxen a day for the duration of the three-day hike (I didn't admit that I had had such a bad backache before I left Lewes that I had gone to an acupuncturist and still had a long-lasting needle in my ear that is supposed to defend against pain).
Jon Reidar planned what he defined as a 'flat' and fairly easy hike that included two nights in mountain lodges. He, Irene, Lars and I were to hike eight miles the first day, nine miles the second, and 'an easy' four miles the last day (The last day included continual drizzle and so the rocks were so slippery it was a miracle I didn't fall).
How could I tell him that I wasn't sure I could do nine miles in one day?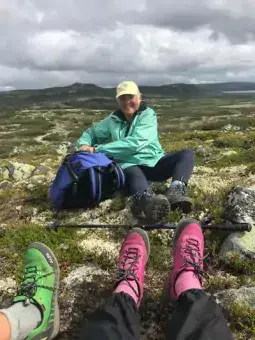 Success
That three-day hike is something I will remember for the rest of my life. The views were, indeed, spectacular. Rolling mountains, rocky and bare of trees. Stripped clean and flattened by thousands of years of ice.  Lakes upon lakes. Streams and marsh connecting them. Streams we had to ford. Trails lost around boulders and found again. Clouds rumbling across endless skies. A few sudden rainstorms turned trails into muddy streams, dark clouds and lightning appeared on the horizon beyond. An occasional hiker, with wet boots and a pack on his back came upon us.
I made it with a lot of help from Lars, who often gave me his hand to get me across rocks and water I was afraid to tackle. I'd look up to see Irene ahead of me gliding along as if she was a fairy. Her feet never touched the mud, never slipped, as if they hovered above the ground. Jon Reidar was ahead of us, leading the way. But once I caught up, he still called me flink, which means cleaver in Norwegian. It was a hike of a lifetime for me at 69, and I give a lot of credit to my kind and loving son who kept me upright more than once.
Information about hiking in the Hardangervidda: https://www.dnt.no/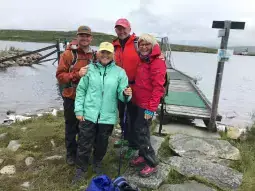 ---