Back to Cooking & Better Than Ever
Image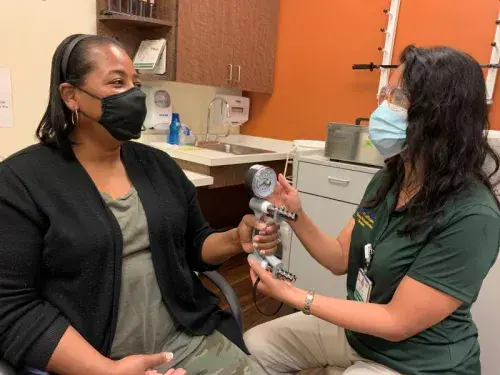 Walking into the warm  kitchen at Jeremy "Jeri" Williams' Bridgeville home, your nose picks up on the sweet fragrances first. Then your eyes take in the beautiful sight of a happy mom, Jeri, cooking at the stove as her husband Al and their two grown children smile and laugh.
Several months ago, this scene would have looked very different.
Jeri, who was disabled in a car accident years ago, had been experiencing severe carpal tunnel and trigger finger issues in her left hand. In February, she had surgery to repair her hand, but her care team at Beebe told her the journey back to the kitchen could be a long one.
"The nerve damage she had from her car accident was affecting her neck and arm, so even after having surgery for her carpal tunnel, we anticipated that it might be a longer recovery than usual," said Jen Guerin, OTR/L, Jeri's occupational therapist with Beebe Physical Rehabilitation Services at Georgetown.
Even after a few consecutive visits, Jeri still had trouble with her sensation and pain level. "I started feeling discouraged. I was very depressed, because I love to cook for my family, and it was something I felt I could no longer do," Jeri said. "My family had to watch as I struggled and cried often. They had to help me with zippers, buttons, fastening my seatbelt, and even opening the door. When I cooked, it hurt so bad to cut up the food needed to make the meals."
Jeri continued, "I kept thinking, maybe this was it for me ... maybe I would never get better. And I talked to Jen about my concerns."
Jen introduced new ways they could continue to work on Jeri's hand motions. "We decided to try a variety of exercises, do some manual techniques on her hand, and figure out some modifications that Jeri could use in order to get more use out of her hand," Jen said. "And we added additional sessions to make sure Jeri found the success she wanted. When I work with a patient, there are guidelines to follow, but as a therapist, you have to individualize the treatment for each person you meet."
Over the course of more appointments, the therapy started to do the trick. At her last occupational therapy appointment in June, Jeri was all smiles.
"Before, I couldn't lift anything. I was dropping things. I was having numbness. Today, I can do everything I used to do. It is just amazing," Jeri said.
Jeri is back in the kitchen and looks forward to cooking for church fundraisers at Mt. Olive Baptist Church in Bridgeville soon. "If it weren't for Jen and the team at Beebe, I might have given up. I was so discouraged early on that I really think I could have just stopped coming to therapy. I am so glad that with Jen's encouragement and support, I kept coming, because now I am a success story," she said.
At home, Jeri's children and husband are thrilled to see her smiling again. When she takes a break from cooking, she gathers up her two small dogs, a Shih Tzu and a Chihuahua, puts on their leashes, and takes them for a walk.
"Before, I couldn't even handle the dogs – even though they are small!"
Jen plans to keep supporting Jeri, too. "I put together a series of exercises that she can continue doing at home and printed them all out for her," Jen said. "This will keep her moving her hand and arm so she can keep doing what she loves."
"I'm putting them up on my fridge," Jeri said with a laugh. "With the pandemic and my hand issues, it has certainly been a rough year, but now that I am back to myself, it has brought a sense of normalcy to my home. It is a relief for all of us, and now we all feel like we can enjoy our time together again."
Beebe Physical Rehab has locations in Georgetown, Rehoboth Beach and Millville. Learn more at beebehealthcare.org/services/physical-rehabilitation. To schedule an appointment with Beebe Physical Rehab - Georgetown, call 302-217-3000.
As a community-based, not-for-profit healthcare system, Beebe Healthcare depends on the generous support of the community it serves. To make a gift to celebrate the excellent care you or a loved one has received, visit Beebe Medical Foundation at beebehealthcare.org/beebe-medical-foundation or call 302-644-2900. Want to share your story? Contact Amanda Neal at [email protected].
---