Doctor Thanks Beebe for Instant and Excellent Care during Wife's Life-Threatening Cardiac Event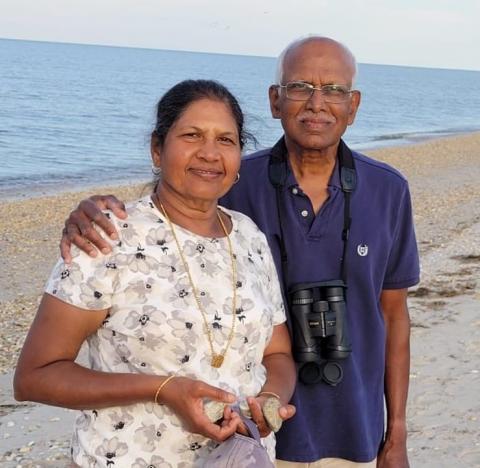 By Somasundaram Jayabose, MD
I am writing this brief story to express my deep and eternal gratitude to everyone in the family of Beebe Healthcare: physicians, nurses, paramedics, emergency medical technicians (EMT) and all other supportive staff for their timely and diligent work that saved the life of my lovely wife of 48 years. It was late July, my wife Nimmy and I along with our son, daughter, their spouses and three grandchildren arrived at Bethany Beach on a sunny Saturday afternoon for a week of vacation. We had wonderful first three days at this lovely beach.
On Tuesday evening, my wife had a mild episode of A-Fib (atrial fibrillation), with only minor symptoms. She was first diagnosed to have A-Fib more than three years ago, but she has been well controlled on meds, and without any symptoms. To control this episode, on the advice of a cardiologist, we gave her a combination of two medications. Although her A-Fib was under control within two hours, her BP and heart rate dropped to very low, and life-threatening levels, and she collapsed as she was coming out of the bathroom around 10 pm. As my daughter and I helped her to lie on the floor, we called 911.
Within less than 15 minutes, the EMTs arrived. Her heart rate was only 33 beats per minute and systolic blood pressure was just 70. The EMTs started intravenous fluids and administered emergency meds, with Beebe emergency department doctors advising them; and soon the paramedics arrived and moved her to the ambulance. Through the next 30 minutes of ambulance drive they kept Nimmy alive by pacing her heart to keep a minimum heart rate to make it to the ED.
It would be another 45 minutes, after the ambulance left for the hospital and before I got to see her in ED.  I was so terrified at the thought of the possibility of losing her. As a physician myself, I kept thinking about her condition when she was carried to the ambulance and what the ED physician was going to tell me when I saw her. Finally, to our great relief, Dr. Jacqueline Smith came out and told me and my children that Nimmy was fine and doing much better. They had stabilized her vital signs with dopamine and her BP and heart rate was within normal limits. When we saw her she was fully alert and talking as though nothing much happened - it was just after midnight.
First thing in the morning, around 7:30 a.m., Dr. Ajith Kumar saw us and explained to us why her heart was behaving the way it did. He told us that Nimmy should not leave the hospital without a pacemaker. Although we wished we could go back to our home in Westchester county, New York, and get the procedure done at the hospital we know well, we trusted Dr. Kumar's judgement completely. He earned that trust instantly by being very compassionate and explaining everything, not only to me and my wife but also to my adult children. The next morning, Nimmy underwent pacemaker procedure, successfully performed Dr. Kenneth Sunnergren.  Now her heart rate will never drop below 60 per minute, and we all breathed a sigh of relief.  Nimmy was discharged from the hospital Friday evening, in less than 72 hours after admission. We stayed in a relative's home for the next two days and drove home on Monday. Nimmy has been feeling great since then.
One other note. During this hospital stay, they also found out that Nimmy had recently acquired Lyme disease. And Dr. Scott Olewiler prescribed antibiotic therapy and called us to explain the details of treatment. He spoke to us at least three times over the next three weeks to make sure that Nimmy was recovering well from the Lyme disease.
If we did not have the kind of instant and excellent medical care, my wife would not have survived her life-threatening cardiac episode. I will never forget that night, how close we came to losing her, and I will never forget the extraordinary team work at Beebe that saved my lovely wife's life.  Sincerely, Jay.
As a community-based, not-for-profit healthcare system, Beebe Healthcare depends on the generous support of the community it serves. To make a gift to celebrate the excellent care you or a loved one has received, please visit Beebe Medical Foundation at beebemedicalfoundation.org or call 302-644-2900. Want to share your story? Contact Amanda Neal at [email protected].
 Photo Caption:  Nimmy and Somasundaram Jayabose celebrate the life-saving care Nimmy received at Beebe.
---