'To help them see another sunrise'
Image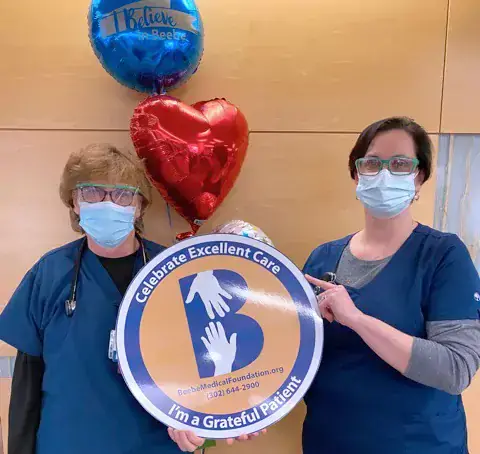 By Tara Cooper
I began my career at Beebe Healthcare many years ago and worked in several different capacities prior to my current position as nurse manager for the Intensive Care Unit. During that time, I have had the incredible pleasure of working with some truly extraordinary people.
One of those people is Denean Cox, a clinical nurse II in the ICU. Denean's journey at Beebe started in 1986, and 27 of her 34 years here have been spent in the ICU. Denean will be leaving Beebe in early March to start a new position with a local behavioral health organization. Her focus there will continue her lifelong commitment to fighting opioid use disorder. In celebrating the excellent care Denean has provided to our community for over 30 years, I also want to acknowledge the overarching effort that Beebe as an organization has invested in raising opioid awareness.
To quote Denean on her career at Beebe and on her new transition, "During my years at Beebe and in my role as an ICU nurse, I have seen many people who have suffered great loss from the devastation caused by opioid use disorder. I feel at this stage in my career I want to try and help others before they have to possibly experience an opioid-related ICU visit. My inspiration for wanting to work in the behavioral health setting is from personal losses in my family from opioid use disorder. This disorder does not discriminate, and this shift in my career is only the beginning. I someday would like to establish a youth ranch where children and young adults could come and experience the unconditional love that only animals can give. I will miss my family here at Beebe, but I do look forward to this new phase! My goal for my patients has always been the same – to help them see another sunrise."
Denean is one of many here at Beebe who are passionate in the fight against opioid use disorder. We have been blessed to have benefitted from her nursing wisdom and positive outlook on life. I am excited to know she will continue in the fight with Beebe, helping another generation of patients see another sunrise. 
Beebe Healthcare will be participating with other nonprofit organizations in an online fundraising campaign called Do More 24 Delaware from 6 p.m., Thursday, March 4, to 6 p.m., Friday, March 5. All funds raised for Beebe Healthcare in this 24-hour period will be designated to its ongoing efforts to raise awareness, connect those in need to appropriate resources, and address the prevalence of opioid use disorder in our community through education and prevention.
To support Beebe's efforts during the Do More 24 Delaware campaign, go to domore24delaware.org/fundraisers/beebe-medical-foundation.
Anyone experiencing a crisis should call 911. Anyone seeking resources or guidance related to behavioral health or substance abuse can call Beebe Behavioral Health at 302-645-3100, Ext. 5284.
As a community-based, not-for-profit healthcare system, Beebe Healthcare depends on the generous support of the community it serves. To make a gift to celebrate the excellent care you or a loved one have received, visit Beebe Medical Foundation at beebemedicalfoundation.org/CEC or call 302-644-2900. Want to share your story? Contact Amanda Neal at [email protected].
Caption: Tara Cooper, right, celebrates the excellent care that Denean Cox has provided to Beebe Healthcare patients during her more than 30 years of service. 
---