Purnell-Wright honored for years of service and excellent care
Image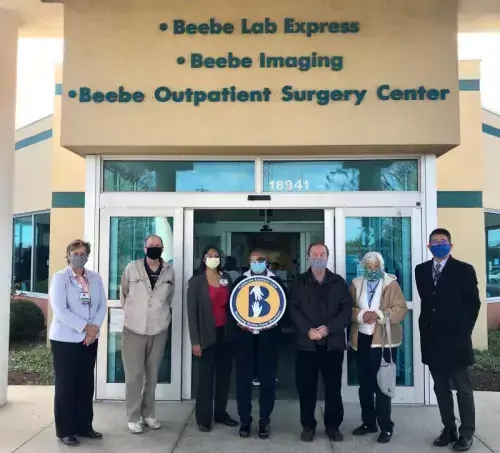 Bob Schnepfe of Rehoboth Beach, co-founder of Beebe's Celebrate Excellent Care program in 2013, is ready to celebrate excellent care once again.
This time he's celebrating the care and attention provided by Guest Liaison Tish Purnell-Wright, who works at Beebe Healthcare's Rehoboth Health Campus on Route 24.
Bob said, "There is only one person I know who has spent more than half of her life as an employee at Beebe, and her name is Tish. I wanted to give her an extra-special thank you, but since I wasn't able to give her a cash gift, I decided to have lunch delivered to her and her teammates in her honor."
Bob, who describes himself as a "frequent flyer" at Beebe, has been going to the Rehoboth Health Campus for lab work and imaging tests since 1993. Tish has always been there to greet and help him. "She always remembers me and my name and why I'm there," said Bob. "She is a big part of the excellent care that Beebe provides to patients every day."
Purnell-Wright has been a Beebe team member for over 34 years, working in various departments throughout her years of service. Now a part of the Guest Relations Team, she has been the face patients see when they arrive at the Rehoboth Health Campus since it first opened. The Guest Relations Team includes hospital attendants and telephone operators, liaisons at the health campuses in Rehoboth Beach, Georgetown, and Millville, and the valet parking attendants at the hospital and Tunnell Cancer Center. They are usually the first point of contact a patient has when they arrive at one of Beebe's sites or call the hospital.
Sue Thiele, Guest Relations manager, said, "The best way to describe Tish is like the air-traffic controller of the site. In the early years, she worked the desk alone. Tish is a master of multitasking, and while she is checking a patient in, she is also making that personal connection. Over the years, Tish has built relationships with her customers. When they call to make appointments for their outpatient needs, they want to go to the Rehoboth Health Campus because of the excellent service Tish provides. It's amazing to see her in action. She remembers all her patients, even if she only sees them once a year."
Last fall, Bob took his brother to the Rehoboth Health Campus for tests. Since it was during the pandemic, Bob dropped his brother off with the plan to pick him up when he was ready. When Bob returned, he couldn't find his brother. Tish spent a lot of time looking for him, and they finally found him waiting on a bench at Tunnell Cancer Center. "Another great reason to celebrate Tish!" said Bob.
As a community-based, not-for-profit healthcare system, Beebe Healthcare depends on the generous support of the community it serves. To make a gift to celebrate the excellent care you or a loved one have received, call 302-644-2900. Want to share your story? Contact Amanda Neal at [email protected].
Caption: Guest Liaison Tish Purnell-Wright is celebrated for her multitasking skills and ability to build relationships with clients. Shown are (l-r) Kay Young, Dennis Schnepfe, Rita Williams, Purnell-Wright, Bob Scnepfe, Sherry Schnepfe and Dr. David Tam.
---