Dr. Tam: Reflecting on the Past Year as Beebe Healthcare Continues to Look Forward 
Image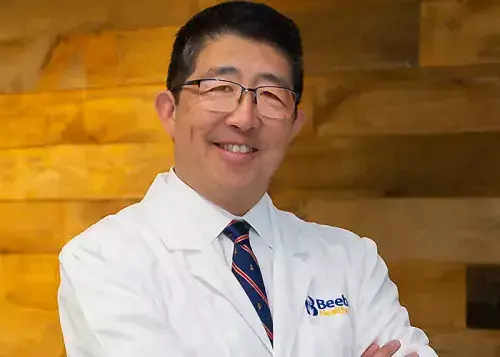 By Dr. David Tam
Like many of us do on Dec. 31 every year, Beebe Healthcare and its leadership team recently took the time to reflect back on our past fiscal year which ended in June.

It was quite a year for the healthcare system and for this community. Last July, we were coming down off the spring surge of COVID-19. Things felt promising as more elective procedures restarted and the need for Beebe's large-scale testing sites diminished as the weather turned and temperatures rose. You heard about Beebe's COVID-19 Recovery Plan at our virtual town halls. The plan, led by Chief Operating Officer Rick Schaffner, brought patients back to the operating rooms and into provider offices with new safety features and additional virtual appointment options to support both the community and Beebe with recovery from COVID.
But COVID-19 reared its ugly head as another, larger surge swept through Delaware and the country. But Beebe was prepared for this surge – continuing to perform important elective procedures and keeping patients coming in to see their providers thanks to those safety measures. It was an important lesson of this pandemic. That second surge saw more lives lost and families forever changed. While this summer feels oh so hopeful again – this time thanks to the COVID-19 vaccines – it is vital to know that even though emergency orders may be ending, we should all still follow smart, easy guidelines as we continue to fight this virus. 
If you haven't received a COVID-19 vaccination yet, please consider it as it is the still the safest and most efficient way to stop this virus from spreading and claiming more lives. Schedule your vaccine online.
A main focus for Beebe since the start of the calendar year was distributing vaccines to the community. Not only can you now walk in without an appointment and receive a vaccine at our Walk-In Care locations, but a truly innovative partnership between Sussex EMS, Sussex Libraries, and Beebe brought the vaccine to many pockets of Sussex County using the Bookmobile. It was an honor for this partnership to represent Sussex County and be highlighted by The New York Times this summer.
I would be remiss to say we could not have accomplished this without amazing community support. Whether it was the nearly $100,000 in donations from Project Kudos, or the masks and PPE that were donated last year – a sincere thank you from the bottom of my heart.  Every member of Team Beebe is grateful and privileged to serve such a supportive and generous community. 
And so now we look to the future of a new fiscal year and a clean slate. Beebe is stronger than before. We've recruited more than 60 providers in the last 12 months and have a laser focus on creating better access ranging from primary care visits to specialist, so that your health concerns can be addressed right here in Sussex County – advanced cardiovascular care, surgical oncology, weight loss surgery, breast cancer, and neurosurgery just to name a few. We've also started new programs like Hospital at Home that show how Beebe will continue to innovate to meet the needs of the community. And our new Specialty Surgical Hospital on the Rehoboth Health Campus continues to make great progress toward its 2022 opening – on schedule and on budget as promised.
You will continue to hear and see from Beebe our message that we are For You, Near You, and With You. We will not rest on our laurels. Healthcare delivery is often complicated, and Beebe Healthcare is not perfect, but we are committed to growing, improving, and evolving in everything we do. We will listen and respond to you and your family's needs because we are honored to be privileged to care for those who live, work, and visit our wonderful community.
Our goal is to deliver the best healthcare to the people of Sussex County. That goal was born 105 years ago from humble beginnings – physician brothers wanting to ensure the health and well-being of neighboring families. We have not lost sight of where we came from and the importance of staying connected to and understanding the needs of our communities. Beebe Healthcare will keep advancing forward to continue accomplishing this century old vision which remains just as relevant today.
David 
 
---