Get to Know: April Comley, Clinical Research Team
Image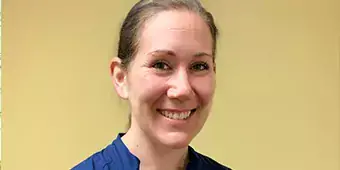 "From a very young age, I wanted to be a nurse," said April Comley, RN, Clinical Research Team, Beebe Oncology Services. "My grandmother was ill while I was growing up and was in the hospital often. I enjoyed seeing what the nurses did and how they helped her.
"When I was in college, my mother was diagnosed with lung cancer. It was during this time that I decided I wanted to specialize my nursing career in oncology."
April attended the University of Delaware to earn her bachelor's degree in nursing. Prior to joining Beebe, April worked at Christiana Care where she became familiar with the work of renowned breast surgeon, Dr. Diana Dickson-Witmer, who also recently joined Beebe and will leave the Center for Breast Health.
"For years, I have been visiting Sussex County with my family. One of the positive things to come out of the pandemic is that we decided, why wait for tomorrow when tomorrow may never come. We decided to make the move in the fall of 2020 and I began to look for a job," April said.
April's previous work as a research nurse matched well with Beebe's Clinical Research Team with Beebe Oncology. 
"I was so excited to join Beebe. Over the years, I have watched Beebe grow and expand. I knew it would be a great place to work," she said. "I've only been here for a short time, but everyone has been so kind. Even with masks on, you can tell they are smiling and enjoying what they do."
April and the Clinical Research Team help place breast cancer patients in ongoing clinical trials. When a patient is interested in possibly participating in a trial, April or a member of the team will meet with the patient and go over all of the options. Then the patient is able to, in most cases, complete the trial while continuing to receive care and treatment at one of Beebe's cancer centers.
---