9-Year-Old Honored with Youth in Philanthropy Award by Partnering with Beebe Medical Foundation
Image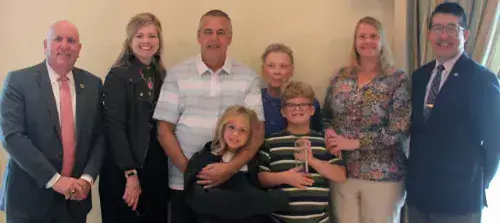 Recently, young philanthropist Charlie Walter, 9, was honored by the Association of Fundraising Professional, Brandywine Chapter at their annual Philanthropy Day event.
Charlie received the "Youth in Philanthropy" award for he's efforts on "Charlie's Challenge," a campaign that raised approximately $31,000 for Beebe Healthcare in honor of his late father, Donald Walter.
"Charlie's efforts we notable on so many levels, and I can think of no one more worthy of recognition for the Youth in Philanthropy award," said Tom Protack, President of Beebe Medical Foundation. "Charlie's Challenge not only raised $31,000 for Beebe to help others. It also boosted the morale of many Beebe team members during a challenging time for healthcare workers."
The Challenge inspired a whole community to rally around Beebe – including many first-time donors, and most importantly, demonstrated the healing effect that philanthropy giving can have on someone who is suffering a loss. David A. Tam, MD, MBA, CPHE, FACHE, President & CEO of Beebe Healthcare, also joined for the breakfast and award ceremony at DuPont Country Club in Wilmington.
"Charlie showed us that you're never too young to make a huge impact and be a philanthropic leader in your community," said Dr. Tam. "I am so proud of my friend Charlie, his sister Ayva, and everyone who participate in 'Charlie's Challenge.' I hope that this campaign created a lifelong positive memory for Charlie who suffered such a devastating loss of a parent at a young age."
Caption: (l-r) Tom Protack, Beebe Medical Foundation President; Stephanie Adams, gift officer, Beebe Medical Foundation, Charlie's stepdad Ray Veenema, Charlie's grandmother Diane Walter, and Charlie's mother Mary Veenema, and Dr. David Tam, Beebe Healthcare president and CEO; Front: Charlie Walter with his sister Ayva Veenema.
---