Beebe Healthcare Announces 2021 Nursing Award Recipients
Image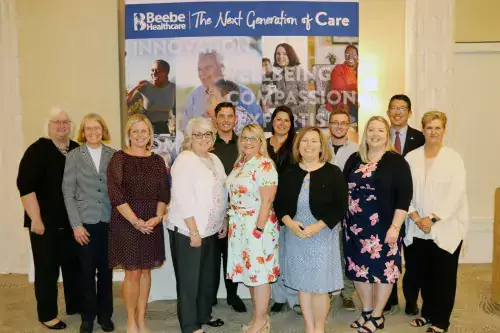 Beebe Healthcare's Nurses Celebrating Nurses Committee recently presented the 2021 Nursing Excellence Awards in May. 
The awards ceremony is held annually to honor nine individual nurses for their dedication but also to recognize the entire Beebe nursing team for their consistent dedication to caring for patients. 
"It's an honor to work with amazing people every day who come to work and care so passionately for the community," said David A. Tam, MD, MBA, FACHE, President & CEO, Beebe Healthcare. "Our nurses carry out the mission for Beebe every day, delivering compassionate, safe, patient-centered care."
What started in 2012 with just three awards, named for three excellent nurses in the organization, the Nurses Celebrating Nursing Excellence Awards has grown to nine awards over the last 10 years. With the exception of two categories, nominations for the awards are submitted by nurses about fellow nurses, advanced practice nurses, and nursing assistants who exhibit exceptional care to their patients. Beebe instituted a Career Achievement award last year. This award is for someone who has dedicated a lot of time to the profession of Nursing and always encourages others to do the same.
The Nurses Celebrating Nurses Committee collects nominations submitted at the beginning of each year out of more than 900 nurses and 600 certified nursing assistants within the Beebe Healthcare organization. This year included 42 nominations, which due to the COVID-19 pandemic, the Nurses Celebrating Nurses Committee recognized the nominees on their units in front of their peers. 
Executive leadership then votes on the nominations, which have been blinded, to choose the winner in each category. The winners are as follows:
Bonnie Austin Nursing Leadership Award: Karen Pickard (School of Nursing)
Constance Bushey Nursing Scholarship Award: Shelly Robinson (Vascular Access)
Eleanor Cordrey Nursing Excellence Award: Angela Scott (Infectious Disease)
Holly Rader Advanced Practice Registered Nurse Excellence Award: Charlene Madanat (Hospitalist NP)
Professional Mentor: Susan Mross (Lewes Emergency Department)
Graduate Nurse: Amanda Smith (Intermediate Care Unit)
Certified Nursing Assistant Excellence Award: Ryan Corr (Medical-Surgical)
Career Achievement Award: Virginia Rickards and Terri Wyatt (School of Nursing)
The third annual Beebe Medical Foundation Nursing Philanthropy Award was presented to Abby Tschoepe, RN, who recently retired from Beebe after managing Cardiac Rehab, Non-Invasive Cardiology, and Vascular Services. Despite retiring from full-time work, Tschoepe continues to help the program and support Beebe. 
This award is presented each year to a nurse whose career and service to the community embodies several or all of the following criteria: 
Nominees have been recognized by grateful patients through the Celebrate Excellent Care program. 
Nominees attend or volunteer at Beebe Medical Foundation events or have organized a fundraising event benefitting the Beebe Medical Foundation.
Nominees are active donors, Giving Hands Society members, or 1916 Club members and are willing to speak with donors about philanthropy.
"Nurses play such a critical role in the care that Beebe provides at the Margaret H. Rollins Lewes Campus, at our health campuses throughout Sussex County, in the patients' homes, and also at our community events," said Lynne Voskamp, DNP, RN, CEN, as Vice President of Nursing Operations & Continuum of Care, Chief Nursing Officer, and Administrator of Home Care Services. "Awarding these nurses and recognizing all the Beebe nurses who make a difference every day was a really special way to say thank you during this difficult year."
Caption: From left to right in the picture it is Terri Wyatt, Ginny Rickards, Karen Pickard, Susan Mross, Ryan Corr, Charlene Madanat, Lauren Trapp, Shelly Robinson, Tyler Burkhardt, Angela Scott, Dr. Tam, Lynne Voskamp.
 
---