Beebe Healthcare Receives $125,000 Donation from Its Auxiliary for Ultrasound Machine
Image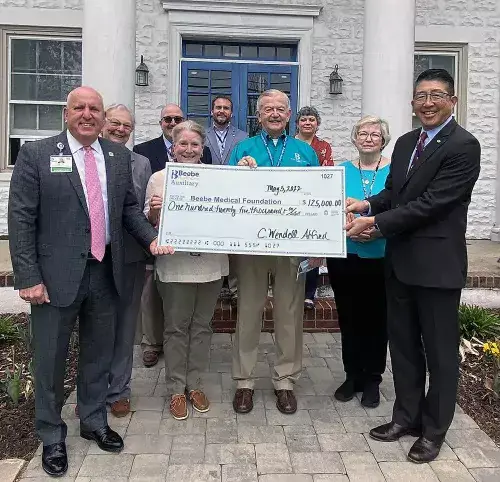 Beebe Healthcare's Auxiliary recently donated $125,000 to the Beebe Medical Foundation, which will fund the new Siemens Sequoia Ultrasound Machine.
The Auxiliary continues to support the growth of Beebe Healthcare by helping to purchase needed equipment, donating to special needs funds, supporting Beebe Oncology Services, and participating in capital campaigns throughout the year. The Auxiliary is the oldest fundraising arm of Beebe Healthcare with over 225 members of all genders.
"The Beebe Medical Center Auxiliary is extremely happy that we are able to fund the new Siemens Sequoia Ultrasound Machine and to continue our mission to support Beebe Healthcare," said Wendell Alfred, President of Beebe's Auxiliary. "The Auxiliary recognizes and is grateful for the critical role that Beebe Healthcare plays in our community."
Since the founding of the Auxiliary, $5 million has been donated to Beebe, with proceeds coming from sales in the Auxiliary Gift and Thrift Shops (Treasure Chest), special Beebe Team member sales, craft sales, and special events.
The Auxiliary's focus and purpose has always remained constant: to promote and advance the welfare of Beebe Healthcare and its patients by providing financial support to achieve its mission through volunteer-led fundraising activities.
In previous years, funds have helped with Beebe's expansion, including the new Rehoboth Health Campus featuring the Specialty Surgical Hospital that opened in May. The new Specialty Surgical Hospital on Route 24 features four operating rooms, 18 bays for pre- and post-operative care, and 24 private, short-stay inpatient rooms. It also houses imaging, laboratory, and pharmacy services, as well as a new location for Beebe's Rehoboth Walk-in Care Center.
"The Auxiliary and all of its volunteers work tirelessly in the Treasure Chest Thrift Shop and hospital gift shops. We are grateful for this gift, helping to equip this new Specialty Surgical Hospital with state-of-the-art technology to best serve Sussex County," said Tom Protack, President, Beebe Medical Foundation.
To help the Auxiliary continue to support Beebe, the community can shop for and donate gently used items to the Treasure Chest Thrift Shop. Located in the shops at Midway. Hours: Monday-Saturday: 10 a.m. to 4:30 p.m. Sunday: Noon to 4 p.m.
Photo Caption: Beebe Healthcare accepts a very generous donation from its Auxiliary members. Left to Right in photo are Tom Protack, Rosey Vanderhoogt, Rick Schaffner, Patricia Barry, Dr. Bill Chasanov, Wendell Alfred, Lynn Wilkins, Nancy Almacy and Dr. David Tam. 
---