Beebe Healthcare Receives More Than $25,000 from Best Crush at the Beach Contest
Image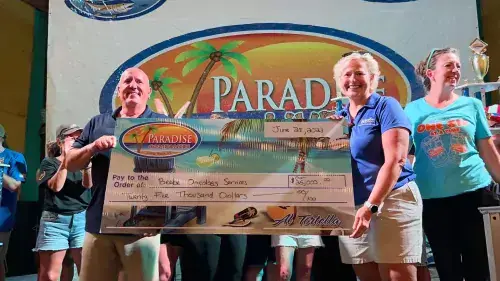 Beebe Healthcare's Oncology Services and Beebe Medical Foundation received a donation for more than $25,000 from the proceeds of the 4th Annual Best Crush at the Beach contest.
On June 28, Paradise Grill hosted over 20 local restaurants as more than 1,200 guests enjoyed taste testing crushes – "Crushin Cancer one sip at a time ."
"We feel truly fortunate to have such amazing community partners, like Paradise Grill, who put on these exciting events to benefit Beebe," said Amy Keller, Event Coordinator, Beebe Medical Foundation.
"Thank you to Al Tortella, Sandy Samsel, BA  Racine-Kerezsi, and their awesome team! We couldn't do what we do in Sussex County without their support. We enjoyed a beautiful evening crushin' cancer in Paradise!"
Pictured left to right: Tom Protack, President, Beebe Medical Foundation; Kay Young, Executive Director of Development, Beebe Medical Foundation; and Barbara (BA) Racine-Kerezsi, Event Coordinator, Paradise Grill.
---