Beebe Healthcare Welcomes Cardiothoracic Surgeon Marisa Amaral, MD
Image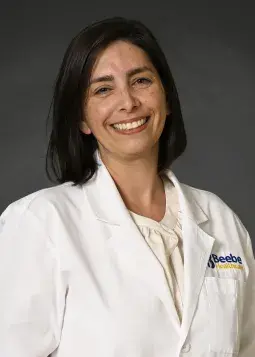 Beebe Medical Group is pleased to welcome board certified cardiothoracic surgeon Marisa H. Amaral, MD, MS.
Dr. Amaral earned her medical degree from Albany Medical College in 2007. She completed both a surgical research residency and a general surgery residency at Baystate Medical Center, followed by a residency in cardiothoracic surgery at UC-Davis Medical Center. She then completed her fellowship in thoracic oncology and robotic surgery at Moffitt Cancer Center in 2017.
"Cardiothoracic surgery is a staple of a providing the best care to our community," said Stephen Keiser, Chief Administrative Officer, Beebe Medical Group. "Dr. Amaral is another great addition to our Medical Staff. Please welcome her to our community and Team Beebe."
Dr. Amaral sees patients at Beebe Cardiothoracic Surgery in Lewes and in-hospital at Beebe's Margaret H. Rollins Lewes Campus. Cardiothoracic surgeons focus on surgeries in the chest cavity, such as heart and lung. Dr. Amaral specializes in surgeries of the lung and chest wall, while Drs. Ted Stephenson and Steven Marra focus on the heart.
"Diseases of the lung may range from chronic conditions to cancer, often leading to complex cases and a multi-disciplinary approach to find the best outcome for each individual. I'm passionate about educating my patients and partnering with them in their care so that they can lead their healthiest life," Dr. Amaral said. "I am thrilled to join Beebe's experienced Medical Staff and to care for patients in Sussex County."
Dr. Amaral is employed by Beebe Medical Group and is a member of Beebe Healthcare's Medical Staff. Call 302-644-4282 to make an appointment.
Dr. Amaral is one of more than 100 new providers who have joined Beebe Medical Group in the last two years. BMG includes 20-plus specialty offices in more than 40 office locations throughout Sussex County. When patients see providers that are within the Beebe Medical Group, they enjoy the experience of seamless electronic medical correspondence between office visits, outpatient facilities and the hospital.
Practices include the specialties of: Cardiothoracic Surgery, Dermatology, Endocrinology, Family Medicine, Gastroenterology, General and Bariatric Surgery, Hospital Medicine, Infectious Diseases and Travel Medicine, Internal Medicine, Pediatric Neurology, Pulmonary & Sleep Disorders, Surgical Oncology, Urology, and Women's Healthcare.
Four Walk-in Care Centers serve the community in Rehoboth Beach, Georgetown, Millsboro, and Millville from 9 a.m. to 7 p.m. daily. 
---