Beebe Healthcare Welcomes Paul Sierzenski, MD, as New Chief Medical Officer
Image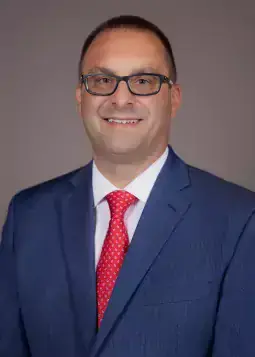 Beebe Healthcare is pleased to announce Paul Sierzenski, MD, MSHQS, CPE, FACEP, as Senior Vice President and Chief Medical Officer for the healthcare system. Dr. Sierzenski has been a physician and executive for more than 20 years with wide-ranging leadership roles at many prestigious institutions. Most recently, he was Chief Medical Officer of the Acute Services Division of BayCare in Clearwater, Florida. He oversaw medical services and quality and safety measures for BayCare's 15 hospitals.
"I'm excited to welcome Dr. Paul Sierzenski to our Executive Staff," said David A. Tam, MD, MBA, CPHE, FACHE, President & CEO, Beebe Healthcare. "He is an experienced leader with a passion for quality and safety and brings that focus to Beebe Healthcare at a time when the system is growing with Sussex County."
He held a similar role for many years prior at Renown Health in Reno, Nevada. However, Dr. Sierzenksi started his healthcare career right here in Delaware. He completed his residency in emergency medicine at ChristianaCare in Newark, after receiving his medical degree at Temple University School of Medicine. He practiced and held many roles in Delaware for many years with Doctors for Emergency Services in the northern part of the state and was Chief Quality & Safety Officer in Acute Services for ChristianaCare before departing for Nevada.
"On behalf of the Medical Staff, I can say we are looking forward to collaborating with Dr. Sierzenski on bringing the best care and access to the people of Sussex County alongside our growing group of clinicians," said Paul C. Peet, MD, President of Beebe's Medical Staff.
Dr. Sierzenski's experienced career, he has been a part of numerous research and publications. He is a fellow of the American College of Emergency Physicians along with many additional professional memberships. Dr. Sierzenski and his family have a longtime connection with the coastal communities of Sussex County and is excited to join Beebe because of how committed the organization is to enhance the health of the people who live, work, and visit here.
"It is a true honor to join Beebe Healthcare, serving a community for which my family and I have a deep connection," Dr. Sierzenski said. "I am thrilled to have the opportunity to support physicians, care teams and Beebe leadership to further improve access to high quality care, optimize patient experience and innovate care delivery for Southern Delaware and its surrounding communities." He will begin his role in late November.
---