Beebe Healthcare's Family Medicine Residency Earns Accreditation
Image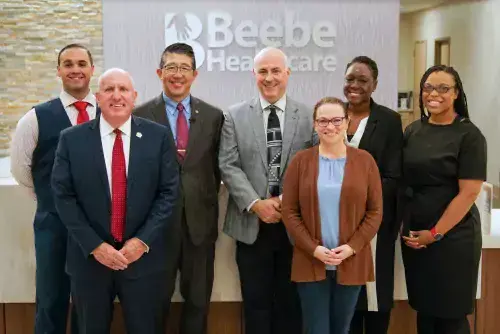 Beebe Healthcare's Family Medicine Residency at the R. Randall Rollins Center for Medical Education received its accreditation recently from the Accreditation Council for Graduate Medical Education (ACGME).
The ACGME is the body that accredits all physician residency and fellowship programs in the United States. In order to obtain this accreditation, the medical education team completed an extensive application and a virtual site visit conducted by the ACGME.
"This is such a pivotal moment for our program," said Joyce Robert, MD, FAAFP, Program Director. "Achieving this accreditation means we are in substantial compliance with the Family Medicine Residency requirements. We are now able to begin the interview process for our first class of four resident physicians to begin in July 2023.
"One of the goals of having this program at Beebe is to create an internal source for well-trained physicians to stay in Sussex County to care for our community."
Dr. Robert has also been awarded a fellowship with the National Institute for Program Director Development with the Association of Family Medicine Residency Directors. This nationally recognized fellowship accepts a small number of program participants each year following an application process. It is the gold standard for Family Medicine Residency Directors and will allow Dr. Robert to bring the best practices for curriculum design, program development, teaching, and standards of care in academic medicine to Beebe.
In March, Beebe will celebrate "Match Day" when four resident physicians are "matched" with the residency program. When the resident physicians come to Beebe, they will care for primary care patients under the supervision of board certified physician faculty members.
"We cannot wait to welcome our future resident physicians to Beebe Healthcare and beautiful Sussex County," said Jeffrey Hawtof, MD, FAAFP, Associate Program Director. "Congratulations to all involved in this long process that will create more primary care access in Delaware."
Pictured left to right: Ryan Arias, DO, Core Faculty, Tom Protack, President, Beebe Medical Foundation, Dr. David Tam, President & CEO, Beebe Healthcare, Jeffrey Hawtof, MD, FAAFP, Associate Program Director, Tanya Ray, MS, Administrative Director, Graduate Medical Education, Joyce Robert, MD, FAAFP, Program Director for the Family Medicine Residency, Cynthia Lamour, DO, General Faculty.
---