Beebe Healthcare's Tunnell Cancer Center Receives $500 Donation from Big Fish Grill Restaurant/Foundation
Beebe Healthcare recently received a $500 donation from the Big Fish Grill Restaurant/Foundation, dedicated to Beebe's oncology program.
Beebe Healthcare recently announced a proposed expansion of services and facilities that would include a new cancer center for the South Coastal region, in Millville.
Beebe employees received a 10 percent discount when they showed their badge on Thursdays at any of the Southern locations during 2017. The Big Fish Group donated the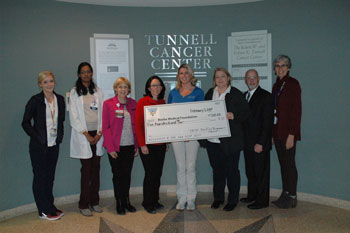 percentage of those sales back to Beebe and added monies from the Big Fish Charitable Foundation to make it an even $500.00.
"Luckily, I've never been a patient at Tunnell Cancer Center, but if I did need cancer care, I believe there is no other facility like this. My dear friend was here for care and treatment, and we were all struck by the compassionate people working here," shared Jenny Burton, Executive Director of Big Fish Charitable Foundation.
Tunnell Cancer Center's Executive Director, Barry Hamp adds, "While cancer is on no one's bucket list, here at Tunnell Cancer Center, we strive to make each patient's experience as positive as possible through the type of care and treatment we demonstrate."
"Gifts like this are so appreciated. They truly make this Center what it is. It is so wonderful that others continue to give and support our great cancer center," said Judy Aliquo, CFRE, President and CEO of the Beebe Medical Foundation.
Photo caption: (Shown left to right) Allison Adams, RN, Tunnell Cancer Center; Dr. Selvi Lingam, Tunnell Cancer Canter; Judy Aliquo, CFRE, President and CEO of Beebe Medical Foundation; Holly Monaco, Vice President of Big Fish Group; Amy Lamden, Director of Operations for Southern Dining, Big Fish Restaurant; Jenny Burton, Executive Director of Big Fish Charitable Foundation; Barry Hamp, Executive Director, Tunnell Cancer Center; and Diane Barlow, Beebe Medical Foundation.
Beebe Healthcare is a not-for-profit community healthcare system with a charitable mission to encourage healthy living, prevent illness, and restore optimal health for the people who live, work, and visit the communities we serve. Beebe offers services throughout Southern Delaware, including a 210-licensed-bed medical center in downtown Lewes, a cancer treatment center, home care services, and outpatient facilities providing walk-in care, lab, imaging, and physical rehabilitation services. For more information on services offered through Beebe, go to Beebe Healthcare. To find out how Beebe Healthcare is creating the next generation of care for the community, go to Next Generation of Care.
The Robert & Eolyne Tunnell Cancer Center at Beebe Healthcare was established in 1995. It has received the Commission on Cancer's highest accreditation with commendation as a comprehensive community cancer treatment center. Its clinical specialties are medical oncology/hematology and radiation oncology. It also offers a multidisciplinary approach for planning all cancer treatment. Nearly 200 patients visit the center each day.
Beebe Medical Foundation was established in 1989 with the sole mission to raise philanthropic support for Beebe Healthcare. The Foundation is located at 902 Savannah Road, Lewes, DE 19958. To learn more about how you can give, please contact the Beebe Medical Foundation at (302) 644-2900 or visit us online at Beebe Medical Foundation.
---